The world of wine is fascinating, intriguing, captivating and rewarding

.
There are few greater pleasures, than opening a bottle of wine you carefully selected - (or even better, have cellared patiently for a number of years) and enjoying it with good food and friends.
However, it can also be an intimidating and confusing subject - as the sheer number of wines and styles available on our retail shelves and wine-lists in New Zealand has never been greater. It can be a process of great confusion selecting the right wine for the right occasion and pairing it with such varied cuisine.
My wine experiences are designed to break down any intimidating factors in a relaxed manor, to help you understand your sensory skills to evaluate and assess wine, and to give you the vocab to describe what you are tasting.
In addition, I can take you through the basics of the winemaking process, discuss the major grape varietals, talk through and taste a number of wines styles with regional differences from around the wine world, plus talk through stemware, decanting, storing, cellaring and serving wine, plus pairing/ suggesting wines with varied cuisine - plus much more...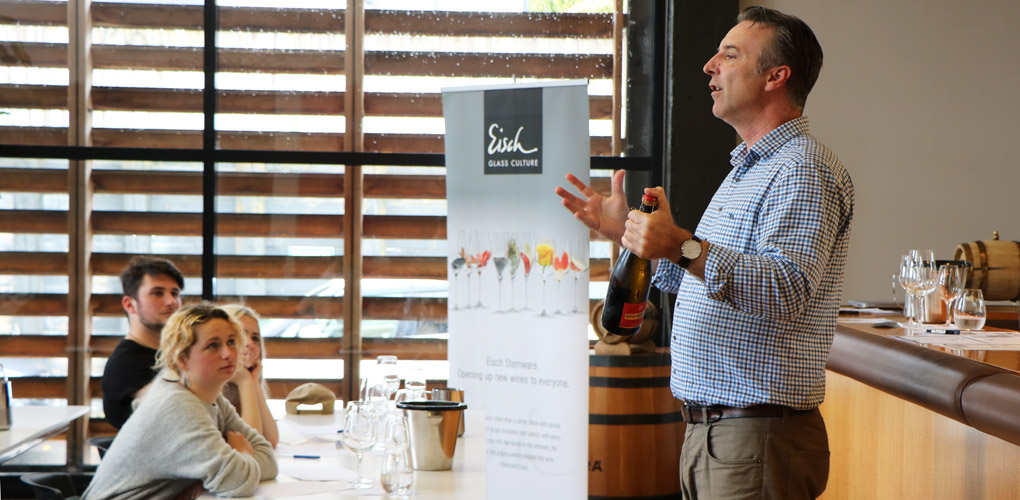 TRADE FOCUSED WINE SESSIONS:
★

Introductory  

+ 

Intermediate 

+ 

Advanced Wine Understanding.
★
A number of dynamic Wine & Food Pairing Sessions.
★
The World of Sparkling Wines 
+ 
Champagne Master Class.

✤

EISCH 'SensisPlus' Wine Glass Experience.
★

 

The Wonderful World of Fortified Wines - Port, Sherry & more.
★

Comparative Wine Modules: Light, Medium & Fuller Style Wines.
★

The Different Methodologies of Grape Growing & Winemaking.
★

Retailing: How to Engage with your Customer.
*(Wine sessions vary in length from: 30 minute modules, through to a full 2-hour experience. Plus the number of wines tasted will vary - depending upon the designed session, size of wine-list or themed event) - *conditions will apply.

*(The cost of each module, wine session, or bespoke staff training will vary - depending upon length of time, number of wines, level of staff and any specific expenses. All costs will be notified before the confirmation of any wine event) - *conditions will apply.
I have been teaching / training & educating around the globe for more than 25 years, designing insightful, focused & engaging wine experiences for the Trade & Public.
So if you are looking to: Improve your own or your staffs wine knowledge *(Retail, Restaurant, Hospitality) - Looking to Design / Pair a Wine List with a Seasonal Menu -  Design a Themed Wine Dinner - Design or Host a Wine Event - and more...
Let's talk…