Explore the Wine Regions of NZ: 
The Wine Regions of New Zealand extend some 1600km from the sub-tropical Northland region (situated at 35° South) down to the Central Otago wine region (situated at 45° South) - and is home to the world's most southerly vineyards. New Zealand's vineyards benefit from the moderating effect of its maritime climate (as no vineyard is more than 120 kms from the ocean) - plus long sunshine hours and nights cooled by those sea breezes.
Most of New Zealand's wine regions are planted on the eastern coastlines of the North and South Islands, in the rain shadow of the mountains, along with each region having its own unique soils and climatic conditions.
Within these diverse regions, sub-regional characteristics play a role and the local wines are distinguished as being not just from a primary wine region, but from a sub-region and a unique place - which can be appreciated in the wines crafted.
New Zealand has a temperate maritime climate, which allows for a wide range of aromatic white grapes and dynamic red wine varietals to thrive and express vibrant personalities. Whatever your wine preference, I am sure New Zealand is crafting wine(s) to suit your palate, cuisine and occasion.
Please enjoy exploring the main wine regions of New Zealand, while gaining a little more understanding and awareness of the diversity and character of the wines produced in these different wine regions.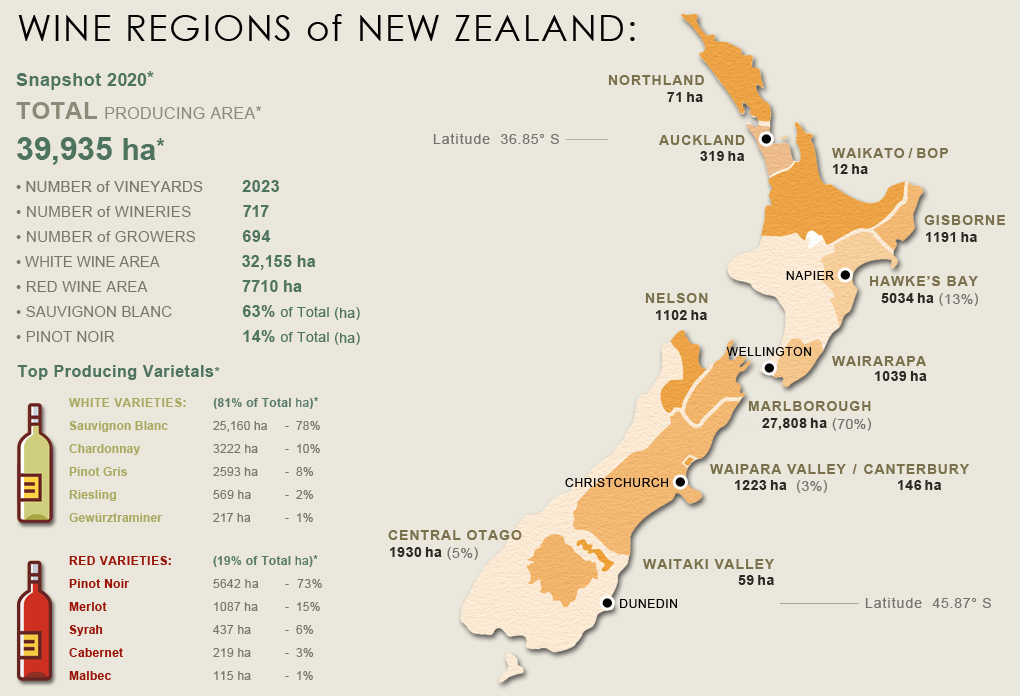 Waiheke Island Wine Region: 
Waiheke Island is located in the Hauraki Gulf of New Zealand, about 18km and some 35 minutes by ferry from downtown Auckland. Waiheke is the second-largest island in the gulf, after Great Barrier Island, though easily the most populated, with some 9000 permanent residents plus an estimated 3400 who have holiday homes on the island.
In the 1950's Waiheke saw its first attempts at winemaking, with the Gradiska family producing what has been described as a fiercely aggressive fortified beverage from hybrid vines planted at Ostend on the island. Kim and Jeanette Goldwater were the first pioneers to introduce vitis vinifera grape vines onto Waiheke in 1977 and then moving permanently to live on the island in 1983.
They were followed by Stephen White at Stonyridge Vineyards founded in 1981 in the Onetangi Valley. Specializing in Bordeaux-style reds, with the island's and possibly the country's most famous red wine Stonyridge Larose. Then quickly followed by the Hamiltons at Peninsula Estate in 1984, then the Dunleavy family planted their Te Motu Vineyard, and Barry and Meg Fenton set up Fenton Estate.
Waiheke Island has an area of just 92 square km's and a coastline of 133.5 km's; with its proximity of the surrounding ocean having a key influence on the climate for viticulture, with a total planted area of just 216 hectares divided among 30 growers / wineries focused on sustainable vineyard practices and a small handful of grape growers.
Waiheke Island's climate is strongly influenced by the surrounding sea; the island is partially protected from the prevailing colder, wetter west and southwest winds, making it both drier and warmer than the Auckland isthmus. The suitability of the island's climate for the growing of classic Rhone Valley varietals has quickly been recognised by growers, some selectively moving away from Cabernet Sauvignon as their core varietal. Though Cabernet blends are the prominent varietals for Waiheke with the majority of vineyards growing in success with them. Recently a surge in new planting has been in affect reflecting the desire of some winegrowers to expand their cellar door range and meet the changing atmosphere for new varietals.
The ocean acts as both a fan and an insulator, with sea breezes moderating rising temperatures in mid-summer. The ocean moderates falling temperatures at night, these moderate temperatures extend longer into the early autumn ripening period of March and April, allowing later varieties to ripen fully. Along with the dynamic climate being a key element, so is the unique terroir that defines this dramatic wine-growing region and makes each one on the island so appealing.
Waiheke can grow and ripen a wider range of grape varieties than other regions because of its long, mild season and the significant variations in vineyard site orientation and soil structure. The picturesque island location of Waiheke both defines its boundaries and contributes to its unique terroir. The warm, dry maritime climate promotes intensity, varietal depth and purity of fruit. Long renowned for its exciting Bordeaux-blends, Syrah is a rising star, fresh, elegant and silky, though a range of other varieties from Montepulciano to Tempranillo, Chardonnay to Viognier also do well.
• The Waiheke wine region produces critically acclaimed artisan wines, they are a red wine predominant region with 57% of all wine produced on Waiheke Island being red varietals, the most widely planted being 19% Merlot and 18% and Syrah. Though there has been an increase in the white varietals in recent years with 16% Chardonnay, 12% Sauvignon Blanc and 10% Pinot Gris at this time.

Today, winegrowing and tourism are the principal drivers of the island's economy, with Waiheke attracting up to 800,000 visitors a year and providing the main economic driver for the island's permanent residents. In the summer months, when the vines are have a full canopy, the resident population swells to 40,000 and the local cafes, restaurants and art galleries do a roaring trade.

Gisborne Wine Region: 
The Gisborne Wine Region can be found in the most easterly region of New Zealand's North Island. Gisborne has a rich wine history and is an influential contributor to the New Zealand wine industry. Gisborne has the claim of being where the Maori migratory Waka 'Horouta' first landed, also where Captain James Cook made his first landfall on New Zealand in 1769. It is said that the first efforts at making wine was a bit of an accident; with some 'holy brothers' thinking they were in Hawke's Bay and planted vines - I would say a happy accident.
The vineyards are sheltered by a mountain range to the North and North West, with Gisborne's warm dry climate also regulated by the nearby Pacific ocean, with cooling afternoon sea breezes, making this an ideal grape growing regions.
Fine clay and silt loam soils create full flavoured aromatic wines with a beguiling fresh note, thanks to the nearby ocean. Kind spring rainfalls and a long dry summer, combined with both alluvial and heavier clay soils, allows dry farming for a wide range of grape varietals, most notably Chardonnay, for which Gisborne has long been famous.
Gisborne's winemaking history has solid begins in 1920s - 1950s where German-born immigrants began to produce wines in the region. In the 1960s, Gisborne became a relative powerhouse for wine production, and by the end of the decade, the Wohnseidler Wine Company was producing 2 million litres of wine per year. Large producers in the region included Wohnseidler, Cooks, Montana and Corbans. In the late 1960's, the modern era of grape growing in Gisborne began, when Corbans and Montana started offering contracts to local farmers to grow grapes.
At the beginning of the 1970s there was the arrival of the avant-garde Matawhero Winery, putting Gisborne on the global wine map with their international award-winning Gewürztraminer. By 1982 Gisborne was the largest vineyard region in the country. At the same time, locally-owned wineries began to build a new reputation for Gisborne with their innovative, quality boutique wines - with Millton Vineyard establishing the first biodynamic vineyard in the Southern Hemisphere.
Today Gisborne is now the firth largest wine growing region in the country and internationally wine lovers continue to be impressed by the variety and quality of wines that come out this region. Gisborne's wine region is made up of several distinct growing areas, each with its own unique soil and climatic features.
The key sub-regions with vines include: The 'Golden Slope' wine area and 'Ormond' area; the 'Manutuke' area is Gisborne's oldest wine-growing region, with grapes first planted in the late 1890's. Riverpoint is the part of the Central Valley region and the 'Patutahi' area is home to more than one third of Gisborne's vines. The 'Patutahi Plateau' is one of the youngest growing areas within the Gisborne appellation and the 'Waipaoa' wine area. Now recently new vines plantings and distinctive wines are being produced in Te Karaka, Waimata Valley, Tolaga Bay and Muriwai.
• As of 2020: Gisborne had 1191 hectares of vines planted in the area:
Chardonnay 619ha, Sauvignon Blanc 168ha, Pinot Noir 24ha and Aromatics with - (Pinot Gris 256ha, Gewürztraminer 32ha, Albariño 20ha, Muscat 14ha & Viognier 11ha). Other experimental varietals include Arneis, Albariño, Verdelho, Semillon, Malbec, Syrah, Tempranillo, Grenache, Pinotage and Pinot Noir used for both sparkling wine production and can make interesting Rosé style wines.
In 2020 the Gisborne wine area had 15 registered wineries (out of a national total of 717) and around 27 independent grape growers, accounting for 3% of total hectares of planted vines and around 4% of the New Zealand's total wine production in tonnes.
Gisborne is the first place in the world to see the new days first light - the locals will welcome you to their unique wine region, a special place tucked away on the East Coast of New Zealand. The wineries, restaurants and relaxed locals promise you a truly unforgettable experience and the legendary beaches and stunning scenery offer a uniquely relaxing holiday - whether you're visiting for a few days - or longer.

Hawke's Bay Wine Region: 
The Hawke's Bay wine region is the oldest in New Zealand and the 2nd largest in vine area and wine production. Located on the East Coast of the North Island, Hawkes Bay is also New Zealand's leading producer of red wines.
Grape vines were first planted in 1851 by Marist missionaries - though the first record of commercial wine sales date back to 1870 when a volume of mostly dry red wines was sold by the Mission Estate. By the early 1920's several wineries had started to develop a solid foundation for the region to build upon, then in 1937 the opening of Brookfields Vineyards still a pioneer to this day - and many more acclaimed names from the 1970's on. Hawke's Bay covers a total area of 1.4 million hectares with 350km of Pacific Ocean coastline.
Vineyards are concentrated around the two main cities of Hastings and Napier within sheltered inland ranges, although more vines are being planted in carefully selected sites across the region. Most of Hawke's Bay's wineries produce less than 200,000 litres per annum and are family owned providing a true boutique wine experience - all sharing a commitment to making great wine.
Hawke's Bay enjoys a very sunny climate, with average temperatures somewhere between that found in Burgundy and Bordeaux. The maritime influence tempers the hot summer days and allows a long growing season. The surrounding high country offers wind protection - though frost can be a risk in some inland sites. On occasion cooler, wet weather can pose problems during the growing season - but the free-draining soils help to reduce its affect.
The regions red varietals combined planting produce over 80% of New Zealand's production of Cabernet Sauvignon, Merlot and Syrah. With Hawke's Bay also specialising in rich and complex Chardonnay wines accounting for approximately 33% of NZ's total producing hectares. Currently 58% of the regions wine production is white and 42% red wine. Over thousands of years, 5 major Hawke's Bay Rivers have formed valleys and terraces creating over 25 different soil types from clay loam, limestone to sands and free draining gravels and red metal. The altitude within Hawke's Bay ranges from sea level to several hundred metres inland. Warm north-facing hillside slopes, river valleys and terraces and coastal areas provide a range of low vigour vineyard sites suitable for a diversity of grape varietals.
Hawke's Bay is best known for its Bordeaux-blend reds and Chardonnay - though aromatic white wines are consistently good and Syrah is increasingly impressive, with new varietals continually being trialed. The sub-regions include: Havelock North - which has more sandy loams over clay pans while Hastings is surrounded by loamy-clay's. Red metals and famous arid, stony 'Gimblett Gravels' are notable and the surrounding rolling hill country is clay and limestone-based. Bridge Pa contains the oldest soils on the Heretaunga Plains. These are distinct as they consist of low fertile, free draining alluvium deposit, eroded ash, loess and underlying sediments.
• As of 2020: Hawke's Bay had 5034 hectares of vines planted in the region:
Merlot 981ha, Cabernet Sauvignon 192ha, Sauvignon Blanc 1311ha, Chardonnay 1083ha, Pinot Gris 554ha, Syrah 338ha, Pinot Noir 227ha, Cabernet Franc 62ha other vineyards produce; Gewürztraminer, Viognier, Riesling, Semillon and Chenin Blanc. Other experimental varieties include Arneis, Albarino Montepulciano, Verdelho, Gamay Noir, Sangiovese and Tempranillo along with Rosé and Dessert style wines.
In 2020 the Hawke's Bay wine area had 100 registered wineries (out of a national total of 717) and currently around 57 independent grape growers, accounting for 13% of total hectares and 9% of the New Zealand's total wine production in tonnes.
Hawke's Bay has a well-established wine tourism and activities which showcase the region's agriculture and cuisine along with the international renowned art deco architecture (mainly in Napier) and artisan producers. The region offers a wide variety of cellar door experiences as well as regular food and wine festivals. Hawke's Bay enjoys a significant international reputation for producing some of the best red and white wines.

Wairarapa / Martinborough Wine Region: 
The Martinborough wine region is located in the southern point of the North Island of New Zealand. Martinborough though a small wine district in size, it makes up for this in quality and style of wines crafted. The wines clearly reflect their unique blend of topography, ancient geology, climate and human endeavours. Distinctively boutique; the wines from Martinborough achieve international acclaim for intensity of flavour - old world style with new world flair - creating superb hand-crafted wines.
Early settler's planted vines in 1883 - falling victim to the temperance movement in 1905. Martinborough's modern wine history dates from the late 1970's with plantings by producers Dry River, Martinborough Vineyard, Ata Rangi and Chifney which is now Margrain Vineyard.
In 1979 a government soil report identified Martinborough as sharing remarkably similar conditions to Burgundy - an almost identical mix of free-draining river gravels, temperatures and rainfall - and prompted an exciting vision of cool-climate wines from Martinborough.
In only 3 decades Pinot Noir has become Martinborough's flagship wine: its elegance and style made Martinborough's international reputation since the early 1990's. Yet there is so much more to the region, the mineral-laden soils and climate nurturing a remarkable range of quality varietals.
Distinctive Sauvignon Blanc with tropical fruit flavours overlaid with minerality, elegant full-flavoured Chardonnay, appealingly aromatic Riesling and Pinot Gris all adding depth and complexity to the Martinborough story. Due to vine age and terroir - it is clear to those in the know that structure, complexity, texture, fruit ripeness and balance set Martinborough wines apart.
The Martinborough wine region is actually one of three fine wine sub-regions of the Wairarapa; linked by the power of the Ruamahanga River which flows from the Tararua mountains to Palliser Bay. Meeting Lake Wairarapa, which inspired the region's Maori name, meaning Glistening Waters. A semi-maritime climate sheltered by the westerly Tararua Ranges, and exposed to strong, devigorating southerly winds. Martinborough experiences cool springs and autumns plus hot summers with cool nights: this combination of pronounced diurnal differences and a long growing season results in intense varietal character and complexity.
The three sub-regions Martinborough, Gladstone and Masterton; share similar soils and geology based on river gravels some of which can be up to 15m deep, cast over thousands of years, and a broadly similar climate. Yet there are discernable differences in the flavour profiles and taste nuances between the three.
Clay loam and limestone feature in certain vineyards and site selection looks to pair varietals with these soil profiles. North to south, Masterton's gravel river beds offer local limestone, Gladstone's more variable silt loam has clay pockets whilst the shallower river terraces of Martinborough are highly sought after.
With typical far-sighted initiative, Martinborough wineries like Nga Waka were among the forefront of sustainable vineyard management, including a world-first achievement of formal international ISO standards and Sustainable Winegrowing New Zealand accreditation.
• As of 2020: Wairarapa had 1039 hectares of vines planted in the region:
Pinot Noir 530ha, Sauvignon Blanc 328ha, Pinot Gris 59ha, Chardonnay 54ha, Riesling 24ha, other vineyards producing Syrah, Merlot, Gewürztraminer and also Rosé style wines.
In 2020 the Wairarapa area had 67 registered wineries (out of a national total of 717) and only a small hand-full of independent grape growers - which accounted for approximately 3% of the total hectares of planted vines and around 1% of the New Zealand total wine production in tonnes.
Even with such modest percentages, Martinborough boasts some of NZ's most iconic and sought-after wine producers. Situated just 1.5 hours drive north-east of Wellington city, New Zealand's capital - a scenic drive, just a mere 30km's from the Pacific ocean, Martinborough offers a range of wine tourism pursuits with plenty of unique accommodation and dining options - to match the unique and varied quality wines of Martinborough.

Marlborough Wine Region: 
The world renowned Marlborough Wine Region is located at the top right hand corner of the south island of New Zealand. Early pioneer David Herd first planted a small block of vines in 1873 in the Ben Morven Valley. The grapes he planted were a brown mutation of Muscat Petite Grain commonly called Brown Muscat at that time. David Herd made wine in the area until his death in 1905, when his son‐in‐law Bill Paynter took over Auntsfield and continued making wine until 1931.
There were further vineyards established through until the 1960's - then there was a lull until more modern varietals were planted in 1973, despite stiff opposition from local farmers and forestry interests.
Montana which was the country's largest wine producer was looking to expand, as founder Frank Yukich wanted to move the company into producing wines for export. The company's viticulturist Wayne Thomas, after months of research came back with a detailed report citing Marlborough as the region with the best potential for wine growing. Montana settled on 1173 hectares and according to Frank the board wasn't exactly excited with his decision and turned down his proposal to develop a vineyard in Marlborough, though it was his resolve that ensured the land sale went ahead.
• Some modern day pioneers: Jackson Estate Wines - 1987, Lake Chalice Wines - 1989, Allan Scott Wines - 1990, Fromm Wines - 1992, Saint Clair Wines - 1994 and more recently Jules Taylor Wines - 2001, Ara Wines and Tupari Wines planted in 2002, Tinpot Hut Wines in 2003, Zephyr Wines in 2007 and Greywacke in 2009 - to name just a few.
Marlborough consistently ranks as one of NZ's sunniest and driest regions, the local Maori referred to the Wairau Valley as 'Kei puta te Wairau' - 'The place with the hole in the cloud' - reflecting the outstanding protection offered by the topography. The Wairau river bisects the valley west-to-east, with the Richmond Ranges to the north and good sized foothills to the south.
The favourable combination of a cool yet high sunshine climate, low rainfall and free-draining, moderately fertile soil produces uniquely vivid wines across a wide range of varietals and styles. The distinctive aromatics and zesty fruit flavours of the first Marlborough wines, in particular Sauvignon Blanc, captured the imagination of the locals as well as international wine community and sparked vineyard development that is still growing.
Worldwide interest in Marlborough wines has continued to fuel that regional wine boom. The region vine plantings are primarily located within the Wairau Valley, though over the last decade, viticulture has spread southeast into the smaller slightly cooler Awatere Valley. More recently the southern side valleys of the Wairau - Fairhall, Hawkesbury and Waihopai have a collection of vines.
In the regions bright, but relatively 'cool' climate conditions, the grapes have the advantage of a long slow, flavour-intensifying ripening period. The average daily temperature during summer is nearly 24°C but clear cool nights keep acid levels high in the grapes - to retain both fresh, vibrant fruit and crisp, herbaceous characters.
The regions soil types are extremely variable, as close to the rivers on the Wairau Plains the soils range from stony former riverbed gravels to deep fertile silts. Further south to the Awatere Valley you see a variety of soils, from older loess to mixed stony gravel. It is not unusual to see a variety of three different soil types within a small vineyard, with each offering something different to the end product. More and more wineries are now utilising these differences, with single vineyard wines that capitalise on the unique conditions of individual winegrowing areas.
• The Wairau Valley - (Rapaura, Lower Wairau, Conder's Bend, Renwick, Kaituna).
• The Southern Valleys - (Ben Morven, Brancott, Fairhall, Omaka, Waihopai).
• The Awatere Valley - (Blind River, Seaview, Redwood Pass).
Sauvignon Blanc is the most important variety in terms of volume, but it isn't the only star. Pinot Noir production has increased dramatically in recent years, not only for table wine but also for sparkling wines.
• As of 2020: Marlborough the largest wine region in the country with 27,808 ha of vines:
Sauvignon Blanc 22,369ha, Pinot Noir 2663ha, Chardonnay 1086ha and Aromatics with - (Pinot Gris - 1161ha, Riesling - 243ha, Gewürztraminer - 75ha and Grüner Veltliner - 27ha). Other experimental varieties include Albariño & Viognier. Along with the production of high-quality Méthode Traditionnelle wines is small but critically renowned.
In 2020 the Marlborough wine area had 158 registered wineries (out of a national total of 717) and around 514 independent grape growers, accounting for 74% of the New Zealand's wine production in tonnes.

Nelson Wine Region: 
The picturesque Nelson wine region is amongst New Zealand's smallest - located at the top of the South Island, producing some of the country's most outstanding terroir specific wines from boutique, family owned wineries.
Nelson is a two hour drive from the town of Blenheim in Marlborough, or a short flight from the capital Wellington. The area is a paradise for artisans, foodies and wine lovers alike, with Nelson enjoying a great deal of sunshine, golden beaches, beautiful scenery, fertile soils and snow-capped mountains. Nelson's sheltered topography gives protection from strong southerly winds; combined with close proximity to the sea - resulting in milder temperatures than other South Island regions, reducing risk of frost, though autumn rains can be an issue.
Each year Nelson is regularly announced as New Zealand's sunniest region - with good diurnal variation helping emphasise varietal character and the high sunshine hours producing wonderful fruit purity. The region has a long horticultural history, being well renowned for crops and orchards, having being cultivated from the time of the mid 1800's with German settlers an then with Romeo Bragato recording in 1895 on Nelson's impressive potential for viticulture.
There were experimental attempts with vines from 1918 onwards, with Frank Berrysmith a government viticulturist recording 5 acres of vines in his 1960 survey. Seifried and Neudorf wineries are recognised as the modern founders of Nelson's winemaking story, establishing vineyards in Moutere Hills in the 1970's. And more recently another wave of talented international winemakers like Patrick Stowe of Rimu Grove have planted new vineyards and added to the regions reputation of crafting distinctive quality wines.
Regional soils are broadly gravelly silt-loam over a clay base, allowing for good water retention during the growing season. The two main areas vary slightly in their composition: the alluvial flat, silty soils of the alluvial Waimea Plains in the east on the edge of the Richmond Range - generally producing lighter, prettier wines than the gently-rolling Moutere Hills to the west, where the weathered gravels of an ancient river system sit beneath sandy-topped heavy clay-based soils, giving wines depth and richness. Viticulture is also emerging in the Golden Bay area, over the Takaka Hill at the top of the Arthur Range. Excellent Chardonnay, Pinot Noir, Sauvignon Blanc and aromatic wines are produced in Nelson, with the area also proud of an impressive mix of new experimental varietals.
• As of 2020: Nelson had 1102 hectares of vines planted in the area:
Sauvignon Blanc 610ha, Pinot Noir 122ha, Chardonnay 110ha and Aromatics with - (Pinot Gris 122ha, Riesling 29ha and Gewürztraminer 21ha). Other experimental varieties include Gruner Veltliner and Pinot Meunier which can make an interesting Rosé style wine.
In 2020 the Nelson wine area had 38 registered wineries (out of a national total of 717) and around 27 independent grape growers, accounting for approximately 3% of total hectares planted and around 3% of the New Zealand's total wine production in tonnes.
Nelson is a scenic drive across the ranges from Marlborough and while its visual qualities have attracted international recognition and acclaim. Being on off the beaten track ensures a sense of tranquility and relaxation when living or visiting the region.
Nelson has a vibrant artistic and café culture with several wineries offering the benefits of both at their cellar doors. The region's compact size means visitors can nearly get around most wineries with cellar doors over a long weekend. Many of the charming winery cellars offer the chance to taste wines the way they should be - with fresh local cuisine. The Nelson region and its vineyards concentrate on grape varietals suited to cooler conditions, accounting for most of the varieties grown - justified by praise and recognition for producing small volumes of well-crafted wines with a unique personality.

Waipara Valley / Canterbury Wine Region: 
The Waipara Valley / Canterbury wine regions are located where the Southern Alps meet New Zealand's most extensive lowlands, spanning nearly 200km of the South Island's eastern coastline. The magnificent Southern Alps to the west and the Pacific Ocean to the east, vineyards are situated from Waimate in the south to Cheviot in the regions north.
The grape growing region includes several micro-climates with the Waipara Valley / Canterbury wine growing region offering a diverse range of styles and wine producers plus many inviting cellar doors. Wine production was first established on the Canterbury Plains near the small town of Belfast in 1978 with vineyards to the south-west of Christchurch and the Waipara Valley area soon following.
Waipara Valley is now intensely planted with the regions wines regularly achieving critical acclaim and success for their sub-regional varietal expressions. Now with vine age and winemaking experience you can seen their wines increasing in depth, developing the region's reputation for elegant, expressive Chardonnay, Pinot Noir and in particular aromatic wines, with numerous vibrant varietals planted with exciting results.
The cool, dry climate with good sunshine hours and a long growing season provides ideal growing conditions for full varietal expression; with their wines renowned for their intense flavours, richness, complexity and elegance.
The Canterbury Plains covers a large area - but only has 146ha of vines planted from Banks Peninsula on the outskirts of Christchurch, west to Rolleston and West Melton then sweeping northward towards Waipara Valley; this predominantly flat, gently contoured landscape has free-draining, shallow greywacke-based gravel soils and a slightly cooler climate than the more protected Waipara Valley. Riesling and Pinot Noir are of note, with the longer growing season giving graceful, expressive wines.
The more renowned Waipara Valley wine area *(with 1223ha of planted vines, around 90%) - is an exciting, fast-growing sub-region just a short drive north of the city of Christchurch, crafting bright, elegant and highly acclaimed Riesling. The valley has three sub-zones, including the valley floor, hill slopes and river terraces. The soils are gravels and clays. As sites and meso-climates are further explored, evermore distinctive Pinot Noir and Chardonnay begin to shine. Though the drying nor'wester can challenge, the surrounding hills offer protection and a slightly warmer climate than the rest of Canterbury.
• As of 2020: The combined Canterbury / Waipara Valley wine regions were the 4th largest wine producing region in the country, with *1369 hectares of vines planted:
*Combined vine areas: Sauvignon Blanc *393ha, Pinot Noir *422ha, Chardonnay *89ha and Aromatics with - (Riesling - *194ha, Pinot Gris - *203ha). Other vibrant varietals include Gewürztraminer, Viognier. Along with the production of quality Méthode Traditionnelle wines is small but critically acclaimed.
In 2020 the Canterbury / Waipara Valley wine area had 71 registered wineries (out of a national total of 717) and only a small hand-full of independent grape growers, with the combined region accounting for 2% of the New Zealand's total wine production in tonnes.
According to the latest New Zealand Vintage Report from NZ Wine published in early June 2019: Waipara Valley's grape harvest weighed in at 8534 tonnes, down 23% from the 2018 harvest and unfortunately higher than the national average of a 2% decrease. It has been 3 years since the region has exceeded 10,000 tonnes of grapes harvested - (the weather / growing conditions have been a challenge) - though the past decade has seen a great deal of investment in new vines / varietals and the region is growing reputation for crafting international recognised and appreciated quality wine varietals.

Central Otago Wine Region: 
The Central Otago wine region is located on the southern 45th parallel in the South Island of New Zealand - making it the world's southernmost winemaking area. It is also the country's highest wine region with vineyards planted between 200 - 400 metres above sea level, with the vines planted amongst some of the world's most spectacular alpine scenery, rising to over 3700m.
Grape vines were first planted in 1864 by Frenchman Jean Feraud, however, stone-fruit (cherries and apricot) orchards prevailed until renewed interest in the 1950s but it was the significant commitment by 1970s pioneers - which set the scene for the late 80's early 90's for the founding of the famed wineries and wines that we know today.
Central Otago has the only continental climate zone in the country, with the large daily and seasonal temperature extremes typical of such geography. Summer is hot and relatively dry, and often accompanied by Nor-west winds; autumn is short, cool and sunny; and winter is cold, with substantial snow-fall. Heavy frosts are common throughout winter and indeed, frost can occur at any time between March and November, even later on occasion.
The climatic contrast between Central Otago and the more humid, warmer wine regions of the North Island can be illustrated by the difference in the timing of the grape harvest. In the more northerly vineyards, picking can take place in late February or early March, while in Central Otago the harvest begins in mid to late April - a difference of some six to seven weeks. The region has high sunshine and short, hot summers provide an eloquent, if brutal, landscape for grape vines: site selection is everything; dry autumns and overall low humidity are significant assets, helping to achieve both purity and complexity.
The structure of the soil also differs considerably from other wine growing regions, with heavy deposits of rough-edged mica and other metamorphic schist's in silt loams. This soil drains easily, and given that most vineyards are positioned on hillside slopes, drip irrigation is generally essential.
Central Otago is comprised of four distinctive sub-regions separated by mountains and deep gorges. The Cromwell basin accounts for approximately 70% of the region's vineyards and includes Bannockburn in the south, Lowburn, Wanaka Road and Bendigo to the north. Approximately 20% of the vines are planted around Gibbston where most are sited on steep north-facing fans and terraces above the dramatic Kawarau Gorge. In the southwest of the region is Clyde and Alexandra, with vines located among rugged schist outcrops in a dry basin, with the remainder of the vines located around Wanaka.
• As of 2020: Central Otago had 1930 hectares of vines planted in the region:
Pinot Noir 1555ha, Pinot Gris 174ha, Riesling 63ha, Chardonnay 67ha, Sauvignon Blanc 39ha, other vineyards produce: Gewürztraminer, Chenin Blanc, Pinot Blanc - along with producing Rosé and quality Méthode Traditionnelle style wines.
In 2020 the Central Otago wine region had 133 registered wineries (out of a national total of 717) - accounting for 5% of total hectares of planted vines and for 2.9% of the New Zealand total wine production in tonnes.
Although still relatively young in vine age and small in area on a world scale. Central Otago has been the most rapidly developing wine growing region in the country, with an international reputation for crafting exciting Pinot Noir. Production of sparkling wine, traditionally made from Pinot Noir and Chardonnay grapes, is small in volume, but the high quality achieved has seen the wines well received internationally. The extreme climate has rewarded careful site selection with wines of great intensity and finesse and there is increasing focus on sub-regional expressions to come - so keep a close eye on this region.
Auckland Wine Region: Video by New Zealand Wine: *(Jan. 2020)
Gisborne Wine Region: Video by New Zealand Wine: *(Jan 2020)
Hawke's Bay Wine Region: Video by New Zealand Wine: *(Jan 2020)
Wairarapa Wine Region: Video by New Zealand Wine: *(Jan 2020)
Nelson Wine Region: Video by New Zealand Wine: *(Jan. 2020)
Marlborough Wine Region: Video by New Zealand Wine: *(Jan. 2020)
Waipara Valley / Canterbury Wine Region: Video by New Zealand Wine: *(Jan. 2020)
Central Otago Wine Region: Video by New Zealand Wine: *(Jan. 2020)