Explore the Wine Regions of France:
France can trace its winemaking history to the 6th century BC - with many of France's regions dating their history of wine production to Roman times. The unique wines produced across this country range from expensive wines which are sold internationally to modest wines typically only enjoyed within France.
France has 200+ indigenous wine varietals - ranging from the well-known Chardonnay and Cabernet Sauvignon to rare grapes like Persan and Prunelard Noir. There are also over 360 official wine label classifications - (called AOP's or Appellation d'Origine Protégée).
Each designation can allow several different types of wine to be produced - (white, red, rosé, sparkling, fortified and more...). Two concepts central to quality French wine - is the notion of 'terroir', which links the style of wine to the location where the grapes are grown, made and the AOP system. AOP rules closely define which varieties and winemaking practices are approved for classification in each of France's several hundred geographically defined appellations, which can cover the region, village and even the vineyard.
France is the source of many grape varieties planted around the globe, as well as winemaking practices and styles of wine that have been adopted in many wine producing countries.
For hundreds of years France has been producing quality, sort after wines. As of 2018 France had 11% of the world's total area of planted wine grapes which makes it currently 3rd in area of grapes planted for wine production. With Spain being 1st - China is now 2nd and Italy 4th in area planted with wine grapes *(not table or dried grapes). In 2018 in actual wine volumes produced France was 2nd, with Italy 1st and Spain 3rd - *(OIV).
As the below wine map of France clearly shows, there are vineyards throughout France - *(except for regions on the far north-west coast).
While a few areas like; Champagne, Alsace, Chablis, Burgundy, Rhône Valley and Bordeaux - enjoy worldwide recognition, there is actually commercial production of wine in nearly every region. Speaking in broad-strokes, the northern vineyards are more renowned for their white wines, while the southern vineyards, from Burgundy south with the exception of the Jura and Savoy vineyards, are known for their red wines.
By clicking on the 'wine region circles' along the bottom of this article. You can explore the main wine regions of France. Giving you a little more understanding and awareness of the diversity and character of wines produced in the different wine regions.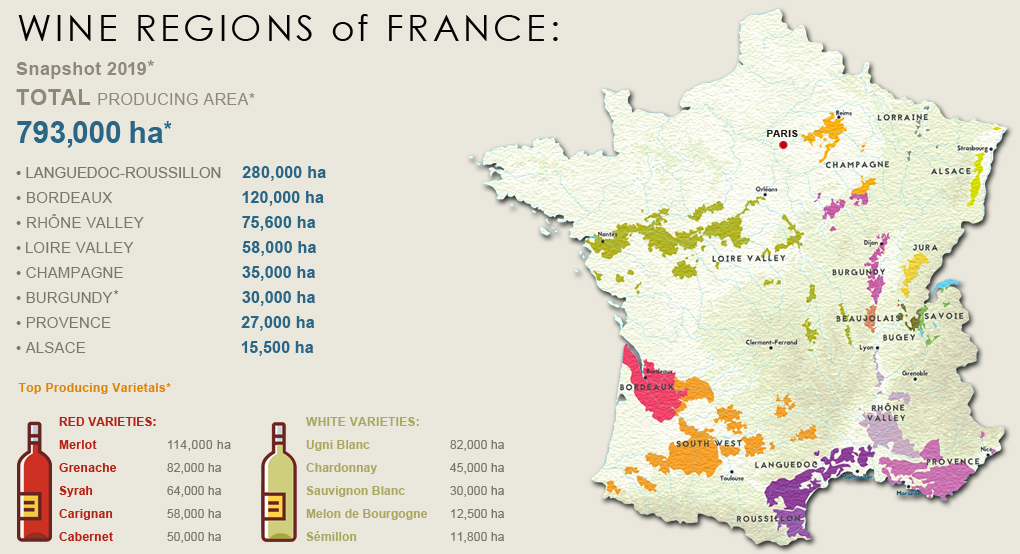 Alsace Wine Region: 
Nestled between the forest covered Vosges Mountains and the German border, Alsace is France's most north-easterly wine region, with its capital city Strasbourg and its wine centre being Colmar. Alsace is one of the driest wine areas in France due to the influence of the Vosges Mountains, and with annual rainfall as low as 500mm.
The mountains also shelter the vines which are grown on both the plains and slopes. The steep slopes are also home to Grand Cru vineyards, the soils vary from alluvial to granite and schist. Alsace as a French wine region, has at various times in its past belonged to Germany, resulting in many of the white grapes grown being the same as those in Germany. By law, all wines must be bottled in the recognizable tall, tapered green bottles called Flutes d'Alsace.
Alsace was one of the first wine producing regions in the world to label its wine bottles according to the grape varietal, rather than by where the grapes were grown, as done in other wine areas of France.
• Wines of Alsace are primarily varietal: Riesling, Gewürztraminer, Pinot Blanc, Muscat, Pinot Gris and Pinot Noir. Over 90% of the wines are white; Alsace also produces an excellent semi-sparkling wine known as Cremant d'Alsace from Pinot Blanc. Most wines are fermented dry as distinct from their German counterparts which are often sweet or off-dry. For this reason many wines achieve high levels of alcohol, especially Gewürztraminer which can reach 14%.
Alsace also produces specialty wines and some excellent Grand Crus. Grand Cru wines must come from one of four permitted grape varietals; Riesling, Muscat, Pinot Gris and Gewürztraminer. They must be from a single vineyard in the best location, a single vintage, have lower yields and pass a stringent quality test. Vendange Tardive wines are made from late picked grapes with much higher sugar levels from the same varietals as the Grand Crus in exceptional vintages.
Possibly the most expensive wines are the Selection des Grains Nobles which are made in the same way as the Vendange Tardive but with the effect of botrytis, crafting wines of enormous richness and complexity.

Beaujolais Wine Region: 
Beaujolais is a French AOP wine typically made of the Gamay Noir grape varietal, which has a thin red skin and subtle tannins. Gamay Noir has been found to be a cross of Pinot Noir and the ancient white grape varietal known as Gouais Blanc.
In contrast to the Pinot Noir grape varietal, Gamay tends to ripen two weeks earlier and is less difficult to grow and ripen. It also produces a vibrant, fruitier style wine, and with much larger crop volumes.
The region really began to develop an identity distinct from its northern neighbour of Burgundy, after the Duke of Burgundy - made his famous decree in July 1395, outlawing the Gamay grape and forbidding its cultivation in the wine region of Burgundy and surrounding area.
The official decree, had the effect of forcing Gamay vine plantings south, out of the main wine region of Burgundy and into the granite based soils of Beaujolais where the grape has thrived. So Burgundy focused on Pinot Noir and Beaujolais focused on Gamay. Although the announcement was not at all popular with the grape-growers of the day, it definitely proved to be a good thing for each of the wine regions.
Located south of the Burgundy region, between Mâcon and Lyon, Beaujolais produces an average of 13 million cases annually. Then once a year, when the world falls in love with Beaujolais Nouveau, nearly half of this harvest is pressed, fermented, racked, fined, filtered and sold within weeks. This quick cash flow injection is the envy of winemakers everywhere.
Beaujolais has a diverse geography, but it is unified by the Gamay grape. 98% of the area is planted with Gamay. with the other 2% is basically planted with Chardonnay, Aligoté and Pinot Noir. Beaujolais is the young, refreshing and fruity wine that is so popular in the French cafés. The fruit driven, exuberant, intensely aromatic wines produced, owes a lot not only to the Gamay grape, but to the carbonic vinification used.
Beaujolais and Beaujolais-Villages pair well with light cuisine, like tapas and salads. The lighter 'Cru Beaujolais' pair well with poultry and the heavier 'Crus' pairing better with red meats and hearty, seasoned dishes.

Bordeaux Wine Region: 
Thousands of books have been written on Bordeaux; its history (temporarily ruled by the English), its wines; arguably the most famous wine region in the world, wines ranging from large volumes of everyday table wine, to some of the most expensive and respected wines in the world. Its terroir; mainly alluvial soils made of stones and debris - its climate; warm but exposed to maritime influences which can create issues at the time of harvest, and of its people; dynasties of négociants and family owners of the most famous Châteaux.
Bordeaux has a relatively simple topography: flat with simple vegetation, with two long rivers, the Garonnne and Dordogne, that split the region in half and then join together into the Gironde River that flows into the Atlantic Ocean.
Despite the simple features of the landscape, this region contains of the exact elements to produce wines of finesse, subtly and incredible ageing. The moderating climate from the Atlantic ocean and rivers creates a warming effect, protecting Bordeaux from harsh frosts. The gravel soils drain rain water away from the vine roots, allowing the damp resistant Cabernet Sauvignon varietal to ripen and mature slowly.
Bordeaux definitely has variable vintages, some hot and dry, and others very wet and cool. To moderate this inconsistency, Bordeaux blends together a variety of grapes that grow and ripen at different stages. Therefore, a Bordeaux red may consist of Cabernet Sauvignon, Merlot and Cabernet Franc (with small percentages of Petit Verdot and Malbec in some vineyards). A Bordeaux white is often the blend of Sauvignon Blanc and Sémillon. These blends create well-balanced wines with good natural acidity, minerality and fruit character.
Within the Bordeaux wine region there are 65 appellations, made up of around 7,500 Châteaux vineyards. It is thought that there are around 13,000 wine brands/labels made in Bordeaux. On average the total wine production is around 650 million bottles per year - and all of this is achieved with no-irrigation, as all of the grapes are dry-grown.
Over the centuries, winemakers have honed and refined their understanding of each grape varietal and adapted their approach to the specific terroirs across Bordeaux, with the focus to preserve and showcase the unique characters of each varietal.
• As of 2019* the total area of planted vines was about 110,000 hectares - with red grapes making up around 89% of the planted vine area and white varietals the rest. The percentage mix of red grapes being around: 66% Merlot, 22.5% Cabernet Sauvignon, 9.5% Cabernet-France & 2% other reds varietals - *(Carmenère, Malbec & Petit Verdot…to name three).
• The percentage mix of white grapes be around: 47% Semillon, 45% Sauvignon Blanc, 5% Muscadelle & 2% other white varietals - *(Colombard, Ugni Blanc & Sauvignon Gris...to name three).
One key fact of the Bordeaux wine region compared to, say Burgundy, is that it is the land of blending. To the best of my knowledge, very few Bordeaux red or white wines are made with one single grape; it is always a complex blend of at least two, more frequently three varietals for the reds as well as for some white wines. Bordeaux is a life-long love affair - enjoy the journey.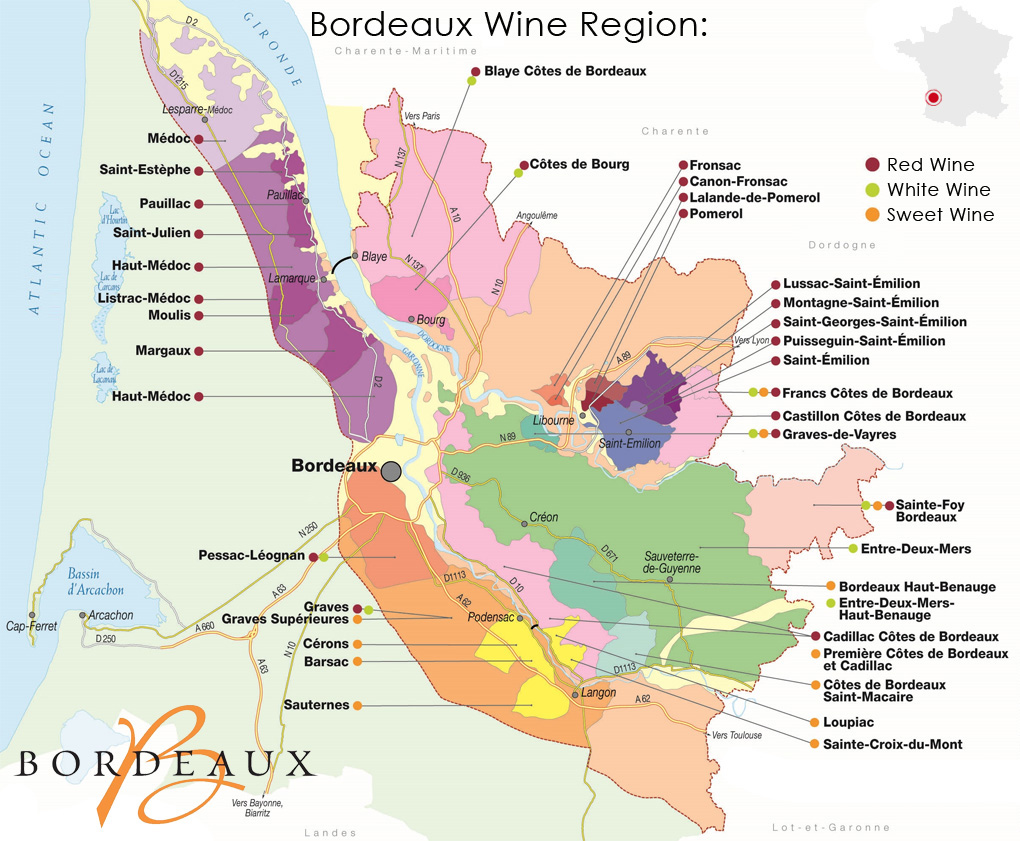 Bordeaux - First Growths: 
For the 1855 Exposition Universelle de Paris, Emperor Napoleon III requested a classification system for France's best Bordeaux wines which were to be on display for visitors from around the world. So a number Négociants from the wine industry ranked the wines according to a Châteaux historical reputation and trading price, which at that time was directly related to quality in the market and divided these top wineries into 5 Classification Tiers. The result was the Bordeaux Wine Official Classification of 1855.
The wines were ranked in importance from First to Fifth Growths (crus). The white wines, then of much less importance than red wine, were limited to the sweet styles from Sauternes and Barsac - and were ranked only from First Growth to Second Growth.
With several thousand different Châteaux producing their own wines in Bordeaux, to be classified was to carry a mark of high prestige.
The best of the best wines were assigned the highest rank of Premier Cru; originally 4 wines, Château Latour, Château Lafite Rothschild, Château Margaux and Château Haut-Brion were deemed worthy. Of all the 61 great classified wines, all but one came from the Medoc region. The exception was Château Haut-Brion, which is produced in Graves.
The 1855 list remained unchanged for over a hundred years until Mouton Rothschild was promoted to Premier Cru status in 1973, after decades of lobbying by its owner; Baron Philippe de Rothschild. Of lesser importance, in 1988 Château Haut-Brion was changed in appellation from Graves to Pessac-Leognan to represent changes caused by the urbanisation of areas surrounding Bordeaux.
Only twice since the 1855 classification has there been a change, first when in 1856 Château Cantemerle was added as a fifth growth (originally omitted due to a complicated history - ownership) and in 1973, when Château Mouton Rothschild was elevated from Second Growth to a First Growth. A third, but less known 'change', was the removal of Château Dubignon, a third growth that was absorbed into the estate Château Malescot St. Exupery.

Bordeaux - Second Labels: 
Some wine enthusiasts desire fancy labels, others relish what is inside the bottle. If you are in the second group, you will find a lot to like about Bordeaux 'second-label' wines. Made primarily from younger vines and extra-production, second wines may cost a third the price of the same estate's primary wine, but they deliver good value and quality in their own right.
They come from the same vineyards, made by the same winemaker as the estate's first wine, second-label wines often capture the distinctive 'terroir' of the Château. The chief difference is that they are made to drink without the need for cellaring. Within the boundaries of a Château, there are differences in terroir: some areas have better soils, better exposure; some are planted with younger vines that yield lighter wines.
Many grow up to four red grape varieties; some do well in one year and some in another. Each variety is harvested and vinified separately, once aged, the winemaker tastes each parcel to select the blending components and proportions, and it is during this process that 'second wines' emerge.
Second wines in Bordeaux can be traced back to the 8th century, but became commercially important in the 1980's when competition forced Châteaux to select their grapes more rigorously. This can mean up to 50% of the grapes are discarded (green harvest) before they ripen so the vines concentrate their flavours and improve quality. By harvest time, up to 25% of the crop may further be removed. Undergoing such a selective process, it can be expected that even second wines will be very good in quality.
In order to offer drinkable Bordeaux wines, establishments (i.e. restaurants) spend a small fortune buying mature wine at auction, and then pass the cost on to their customers. Others sell what are currently available and on the market, even if the wines are still in need of aging. Result; customers drink unready Bordeaux red wines or, customers choose a wine from elsewhere that ages, becomes approachable faster.
If you don't want to pay hundreds or even thousands of dollars at auction - the alternative is investing in current vintages and ageing them yourself for 10 - 15+ years. Or you can purchase and enjoy a 'second label' wine.

Burgundy Wine Region: 
Burgundy is arguably the most 'terroir' oriented wine region in France, and possibly the most complicated. Immense attention is paid to the area of origin, and in which of the region's 400 types of soil grapes are grown.
As opposed to Bordeaux, where classifications are producer-driven and awarded to individual Château. Burgundy wine classifications are geographically-focused. A specific vineyard or region will bear a given classification, regardless of the producer. This focus is shown on the wine's label where appellations are most prominent and producer's names often appear at the bottom in smaller text. Between Auxerre and the Mâcon region the Bourgogne winegrowing region has approximately 30,000 hectares of planted vines, and home to 84 Appellation d'Origine Protégée AOP wines.
Burgundy is composed of thousands of small-scale growers, often with only tiny parcels of land, who may make a range of different wines, both red and white.
In total, there are 84 separate appellations AOP's in Burgundy. With only 33 vineyards having the privilege of being classified as 'Grand Cru'. They used to be called 'Tete de Cuvee', and yes they are the best among the best. The rest of the appellation mix within Burgundy are 44 'Village + Premier Crus' and there are 7 Regionale.
These numbers do not include the several hundred named vineyards at the Village and Premier Cru level which may be displayed on the label, since at the Village and Premier Cru level, there is only one set of appellation rules per village. The total number of vineyard-differentiated AOP's that may be displayed is well in excess of 3600, along with 268 Merchants and 16 Co-operatives producing wine in the region.
Burgundy as a whole: Grands Crus account for only 1% of all wines produced, with Village + Premiers Crus accounting for about 47%, and the Regionale wines accounting for the rest at approximately 52%. Chardonnay makes up around 51% of production, with Pinot Noir at around 39.5%, Aligoté at 6% and (Gamay, Sauvignon & others) making up the last 3.5%.
There are about 600 vineyards that merit the appellation 'Premier Cru'. The name of the village, followed by the vineyard name in the same lettering, appears on the label of a 'Premier Cru'.
The Côte de Nuits is home of the great red Burgundies. White is also produced, but the red wines (Pinot Noir) are the region's glory.
The Côte de Beaune known for both red and white wines, but the greatest white Burgundies - Chardonnay wines (other than Chablis) are from here. - enjoy the journey.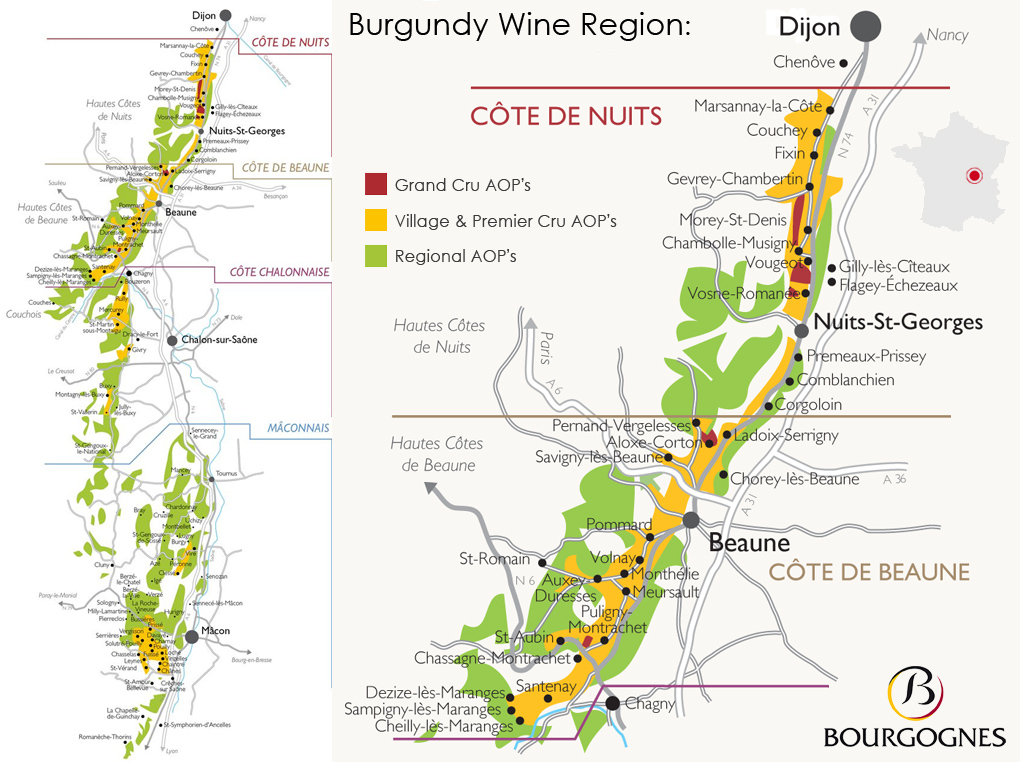 Chablis Wine Region: 
The Chablis Wine Region is located approximately 190kms south-east of Paris in France, and takes is name from the local town found at the heart of the area. The Chablis wine region is part of the Yonne Valley, roughly midway between Paris and Dijon. It is more widely known as Chablis, though a bit of a misnomer, as Chablis is only one of its 5 primary vineyard areas, the other villages: Auxerre, Tonnerre, Joigny and Vezelay.
The Appellation d'Origine Protégée system divides the region into 4 classifications: Petit Chablis AOP, Chablis AOP, Chablis 'Premier Cru' AOP and Chablis 'Grand Cru' AOP. All wines in the appellations are white wines from Chardonnay grapes - although there are some minor appellations that produce wines from Pinot Noir, Aligote and Sauvignon Blanc.
The Yonne Valley produces a great diversity of wine; there is a refreshing sparkling wine known as 'Crémant de Bourgogne', produced throughout the Yonne. The area is made up of 20 or so small hamlets clustered around the centrally located village of Chablis, which is divided in two by the Serein River.
• The Grand Crus of Chablis are connected along a chain of 3 interlocking gentle south-west facing slopes located on the right bank, overlooking the Serein River and in view of the picture-postcard village of the Chablis.
• The 7 Grand Crus are: Blanchot, Les Clos, Valmur, Les Grenouilles, Vaudesir, Les Preuses and Les Bougros.
• The 40 Premier Cru vineyards are situated on a series of hillsides both on the left and right side of the river. The best Premier Crus are, like the Grand Crus, the vineyards are situated on the right bank, with their slope facing to the southwest.
The soil is a unique combination of clay and chalk called 'Kimmeridgian', and it is profusely littered by fossils of oysters. It gives the wines a unique profile of aromas and flavours. It is often referred to as a gout de la pierre la fusil, or gun-flint character. The fruit flavour is less intense than elsewhere in Burgundy, as Chablis' northern location produces flavours of green apples, pineapple, pink grapefruit and a confident mineral seam. The wines are also typified by their strongly defined acidity, often requiring time in the bottle to find their balance.

Châteauneuf-du-Pape Wine Region: 
Châteauneuf-du-Pape is a well known AOP wine producing area, located around the village of Châteauneuf-du-Pape in the Rhône wine region of south-eastern France. The vineyards that cover around 3200 hectares are planted around Châteauneuf-du-Pape and in the neighbouring villages Bédarrides, Courthézon and Sorgues between Avignon and Orange.
Châteauneuf-du-Pape roughly translates to 'The Pope's New Castle' - and the history of this wine appellation is finely entwined with the papal story. In 1308, Pope Clement V, former Archbishop of Bordeaux, relocated the Papacy to the town of Avignon. Clement V and subsequent 'Avignon Popes' were said to be great lovers of Burgundy wines and did a lot to promote it during the seventy-year duration of the Avignon Papacy.
At the time, wine production around the town of Avignon was less than memorable and mostly for local consumption. Then Clement V was succeeded by John XXII - who regularly enjoyed wines from the vineyards to the north and did much to improve viticultural practices in the area. The wines of this area came to be known as 'Vin du Pape', later to become Châteauneuf-du-Pape. John XXII is also responsible for building the famous castle which stands as a symbol for the appellation.
Vineyards can reach 120m above sea level in the northern part, and the characteristic terroir of Châteauneuf-du-Pape comes from a layer of large rounded stones called 'galets' - (pebbles). The stones retain heat during the day and is released in the early evening, which can have an effect of improving the ripening of the grapes. The large stones also serve as a protective layer to help retain moisture in the soil during the dry summer months.
The original Châteauneuf-du-Pape AOC rules allowed 10 varietals, which were amended to 13 in 1936, and 18 in 2009, since white, rosé and dark versions of some grapes are now clearly listed as separate varietals.
• Red Grapes: Cinsault, Counoise, Grenache Noir, Mourvèdre, Muscardin, Piquepoul Noir, Syrah, Terret Noir & Vaccarèse.
• White / Pink Grapes: Bourboulenc, Clairette Blanche, Clairette Rose, Grenache Blanc, Grenache Gris, Picardan, Piquepoul Blanc, Piquepoul Gris and Roussanne.

Languedoc-Roussillon Wine Region: 
The Languedoc region in southern France - has a very long and colourful history with grapes and wine. The Greeks around 550 BC are thought to have planted the first grape vines in the area. A long time before the Romans arrived, although they dramatically improved the winemaking process. The regional area of Languedoc-Roussillon and Provence is an extremely large wine area, stretching all the way from the Spanish border, along the Mediterranean coast almost across to the Italian border.
It is one of the biggest grape growing regions in the world, covering approximately a third of France's vineyard area, producing a diverse range of quality wines in a perfect grape growing climate and terrain that extends from the sea to the mountains. The greater Languedoc-Roussillon wine region is the largest appellation in area in the world with around 240,000 hectares of vineyards *(reported in 2019), worked by 24,000 vine growers and about 2,500 wine estates in the region.
There are 15 main wine regions (each region made up of many smaller domains) in Languedoc-Roussillon, southern France. The soils and 'terroirs' in this huge area are extremely varied, ranging from; Schist, Sandstone, Marl, Gravel, Pebbles, Limestone, to Granite and Alluvial soils, resulting in the making of a large number of different styles of wine.
• Planted across this vast area are a number of different grape varietals, the reds include; Carignon *(some of the oldest vines in France are Carignan), Cinsault, Grenache Noir, Syrah, Mourvèdre, Cabernet Franc and Merlot.
• The white wine grape varietals include; Chardonnay, Grenache Blanc, Picpoul, Marsanne, Roussanne, Vermantino, Mauzac, Chenin, Rolle and Clairette.
In the past this area was infamous for its' poorer quality viticulture with over production and high yields producing large volumes of 'vin-de-table' wines. This is no longer the case, yields have been significantly reduced and quality is now the name of the game.
Whether it be a personal preference, a new interest in the region, a surprise or gift for a friend, or a wine that fits the occasion and cuisine being served - I am sure your taste buds will enjoy the journey of discovery.

Loire Valley Wine Region: 
Often called the 'Garden of France' - the Loire Valley is a special place for vineyards. With rolling green hills dotted with more than a thousand Châteaux. It is perhaps the charm of its gentle pace of life that has, for centuries, made it a sought-after location for poets and writers, and for Kings and Queens alike over the centuries.
From my own personal experience, the Loire Valley is a very special place. It is the home of a dynamic variety of wines. Many of which I experienced for the first time on a dedicated, educational wine trip to the region in the early 1990's, stopping off at different appellations along the way. Not only did I learn a lot about the wine and the people behind them, I developed many great friendships, which have drawn me to back time and again.
The Loire Valley produces high quality wines in all styles. The wines, whatever their colour or style, share the characteristics that make Loire Valley wines unique: freshness, finesse and food friendly nature.
Without doubt this infinite variety owes much to the region's history, but the soils, peppered with Tuffeau (limestone of which many of the local Châteaux are built), quartz, schist, phthanites, sandstone and more play an important role. With 57,200 hectares of vines planted across 51 AOP and 4 PGI regions, the Loire Valley is France's top producer for white wines, second for producing rosé wines, and the third largest in volume for AOP wines as a whole.
While the majority of production is white wine from - Chenin Blanc, Sauvignon Blanc and Melon de Bourgogne (Muscadet) grapes, there are red wines made (especially around the Chinon region) from Cabernet Franc and Pinot Noir. In addition to still wines, rosé, sparkling and dessert wines are also produced to a high quality.
With Crémant production throughout the Loire, it is the second largest sparkling wine producer in France after Champagne. With all these different wine styles, Loire wines tend to exhibit characteristic fruitiness with fresh, crisp flavours-especially in their youth and they match New Zealand's fresh, local cuisine very well - enjoy.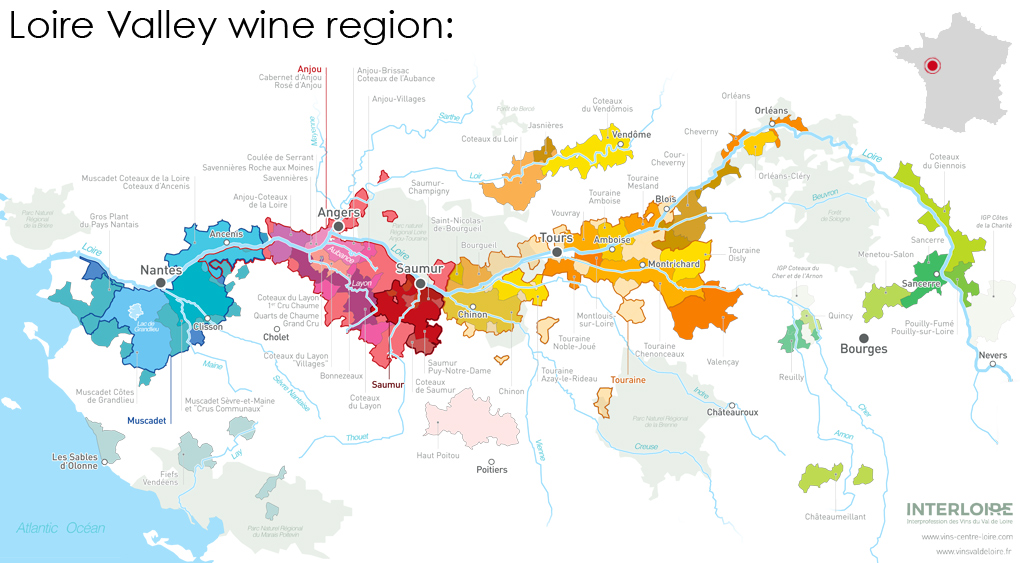 Sancerre Wine Region: 
Sancerre is a renowned AOP wine produced in the surrounding area of the town Sancerre in the eastern Loire Valley, around 200 kms south of Paris - France. Almost all of the appellation lies on the left bank of the Loire River, opposite the AOP Pouilly-Fumé.
Sancerre is arguably the spiritual home of Sauvignon Blanc, though Pinot Noir is also grown in the area, making up around 20% of the region's wine production, typically made is an early drinking style under the designation of Sancerre Rouge. A Rosé wine made from Pinot Noir is also produced by two different techniques - *(rosé de pressée & rosé de "saignée) - both producing unique, bright and vibrant styles.
Though when you mention Sancerre - most think foremost about white wines - one of the original AOCs awarded in 1936, with their designation for red wines on 23 January 1959.
The AOC / AOP area has expanded greatly over the years, with a large area being designated in early 1998. As of 2019 the region had 3,000ha under vine and approximate 330 wine growers. A series of small valleys cut through the chalk hills, each with their own soil profiles, micro-climate and terroir. In the east are the flint soils that make mineral, long-lived wines. Between the town and Verdigny the soil consists of marl and gravel 'les caillottes' producing fruit driven, well balanced wines. And in the southwest, away from the river towards Menetou-Salon, the chalky 'terres blanches' (white ground) produce fuller wines.
As a cool continental climate wine region, one of the main viticultural threats in Sancerre is springtime frost. Throughout most of the growing season the nearby Loire River to the east and forest areas to the west help moderate temperatures. Herbaceous styles of Sauvignon Blanc are more common with large, leafy canopies, while producers wishing to minimise these qualities may use wide, open canopies.
Vine age can also contribute to how much grassy / herbaceous characters the resultant wine may have - as well as how early the grapes are harvested. The focus of Sancerre winemakers is usually to express the pure fruit flavours of Sauvignon Blanc and the natural terroir of the region with very little adjustments taking place in the winery during winemaking - with most of the wines in Sancerre being produced in a dry style and unoaked.