Explore the Wine Regions of Australia: 
Australia has a well-respected wine industry - and a key producer on the world market. In 2019 Australia was the 6th largest wine producing country - and in the same year the 5th largest wine exporter - (source OIV). The first vines arrived in the end of the 18th century on board the vessels of the First Fleet of Governor Phillip going to New South Wales.
Today the main grape varieties cultivated in Australia wine regions include - Red Varietals: Shiraz / Syrah, Cabernet Sauvignon, Merlot, Pinot Noir, Grenache, Sangiovese and Mourvèdre. White Varietals: Chardonnay, Sauvignon Blanc, Pinot Grigio/ Gris, Sémillon, Riesling and Viognier.
The best wine-producing regions are located on the south east and south west of the country, with the north being too tropical and the centre too hot and dry. The areas in which grapes thrive tend to have cool to warm Mediterranean climates.
A key to better appreciating Australia's wines is by understanding the diverse geographical distinctions of its wine regions. The five key wine states in Australia: Western Australia, South Australia, Victoria, New South Wales and Tasmania.
Each region reflects its own unique characters of terroir according to the influences of climate, soil type, landscape, aspect and topography. The wine regions of Australia boast terroirs that are as diverse and unique as anywhere in the world.
There are over 100 different grape varietals planted in Australia - including a number of lesser known European varietals are also grown such as: Tempranillo, Barbera, Touriga Nacional, Nero d'Avola, Fiano and Vermentino.
Australia produces a combination of reliable early/easy-drinking everyday wines alongside a smaller range of higher quality wines renowned for richness and complexity. If future rising temperatures are correct, the successful wine regions of Australia will focus around southern areas where cooler temperatures will favour premium grape growing.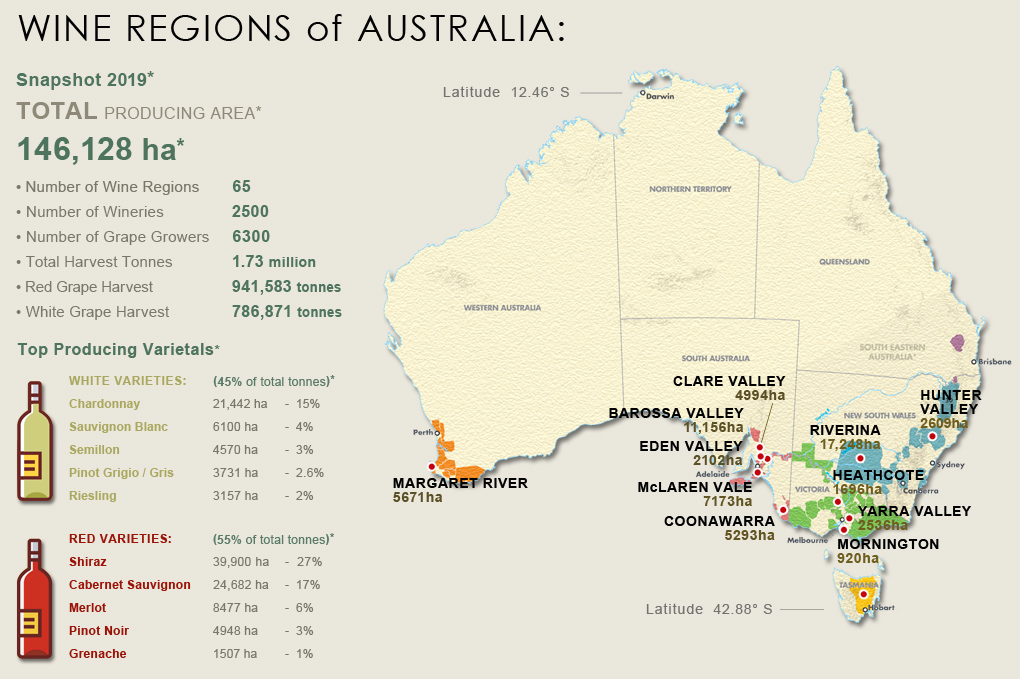 Barossa Valley Wine Region: 
The Barossa Valley wine region of South Australia was founded by a wealthy, philanthropic English shipping merchant named George Fife Angas, and soon after settled in 1836. The free colony's first Surveyor General, Colonel William Light named the fertile valley after the Barrosa Ridge in the Spanish region of Andalusia where he fought a famous battle in the Peninsula Wars of 1811. However there was an error in the registration process and a new Australian name was born, Barossa.
Wine has been a way of life in the Barossa since the early 1840's. The Barossa incorporates both Barossa Valley and Eden Valley, making it one of the only areas in Australia to have neighbouring warm and cool climate growing conditions.
In 2019* - there was approximately 11,156 hectares of vineyards planted in the Barossa Valley - with some 550 grape growing families, many sixth generation, supplying quality grapes to more than 170 wine companies of all shapes and sizes.
From all corners of the valley floor to the highest hills include: Gomersal, Williamstown, Lyndoch, Rowland Flat, Barossa Foothills, Vine Vale, Eden Valley, High Eden, Light Pass, Northern Barossa Valley, Greenock, Seppeltsfield and Marananga.
The best wines of the Barossa sit comfortably alongside the great wines of the world. Barossa Shiraz and Eden Valley Riesling have led the way as the regions heroes, with Cabernet Sauvignon, Mataro (Mourvèdre), Grenache, Viognier, Semillon and Tawny style wines all contributing to the Barossa's standing as one of the world's great wine regions. With such a diversity of growing conditions and soil types across both valleys, and vineyards that have been tended by hand for many generations, you are bound to find a favourite wine.
The Barossa Valley, as with other South Australian wine regions, is classified as phylloxera free. The quality wine produced in this region comes from some of the oldest vines in the world. It is vitally important that the Barossa remains vigilant about the threat of phylloxera. In 2009, the Barossa Old Vine Charter was instituted to register vineyards by age, so that older vines could be preserved, retained and promoted.
The 'Old Vine Charter' groups vineyards into four categories by age:
• Barossa Old Vine - Equal or greater than 35 years of age.
• Barossa Survivor Vine - Equal or greater than 70 years of age.
• Barossa Centenarian Vine - Equal or greater than 100 years of age.
• Barossa Ancestor Vine - Equal or greater than 125+ years of age.
Old vines do not of themselves make good wine. But, vineyards that consistently produce good wine tend to get the opportunity to become old vines. If it should ever be possible to taste history and the past, then it will be through the successful preservation and celebration of an old vine culture.

Clare Valley Wine Region: 
The Clare Valley wine region is one of Australia's oldest, arguably best known for its Riesling wines, often being called the home of Australian Riesling. Its Mediterranean-style climate is ideal for the production of quality Riesling, Chardonnay and Semillon, along with Shiraz, Cabernet Sauvignon and Merlot varietals.
In 2019* - the Clare Valley had approximately 4,994 ha of vines planted in the region. With more than 50 wineries, most of which are small, boutique in size and style, located along a 40 kilometre corridor between the towns of Auburn to Clare - and passes through all the major towns of Leasingham, Watervale, Penwortham and Sevenhill. The Clare Valley wine area is situated approximately 120 kilometres north of Adelaide in South Australia.
The Clare Valley was settled by immigrants from England, Ireland and Poland, who first moved into the region during the 1840s and left a rich heritage and architecture which remains today. With many of these buildings being used today as guest houses, premium restaurants and art galleries.
The Clare Valley has a wine trail - which can be cycled in around three hours and connects many of the region's popular attractions, cellar doors and artisan food producers. Several cellar doors offer home-grown seasonal produce, tapas through to restaurant style dining.
English settler, John Horrocks (Horrocks Pass near Port Augusta was named by Horrocks while exploring the region) was the first to plant vines at Hope Farm. Fleeing religious persecution in the region of Silesia (which is now part of Poland); pioneering Jesuit priests followed, planting vines intended for sacramental use, at Sevenhill around 1852, and Springvale (near current day Watervale) in 1863.
Winemaking practices improved over time, and today the emphasis is on quality table wines, predominately Riesling white wine, along with Shiraz or Cabernet Sauvignon red wines, plus several other varieties are constantly being tested. Though the region has a substantial wine reputation around the world - the Clare Valley produces only 3% of Australia's total grape crush - yet wins approximately 20% of the wine awards available to Australian vineyards each year.
The Clare's unique combination of geography, geology and climate results in terroir that is perfect for producing world-class vibrant wines. And it's little wonder that the regions forefathers chose this little corner of South Australia to build a future. The Clare Valley has five separate sub-regions - with the Clare Valley being an expanse of sweeping gullies and rolling hills.
During the growing season, the days are warm and the nights are cool, and it's this diurnal temperature range - from as much as 40°C in the day, down to 5°C at night, along with the character-forming 'terra rossa' soil, makes the Clare Valley equally favourable for producing outstanding Cabernet Sauvignon and Shiraz and has also seen the region's Riesling acclaimed as some of the best in the world.

Coonawarra Wine Region: 
The Coonawarra wine region is located on the Limestone Coast of South Australia. Often called Australia's "other red centre", its premium red wines have won world acclaim. Its Cabernet Sauvignon wines produced on its 'terra rossa' soil - are internationally renowned and its Shiraz wines are not far behind.
Coonawarra is an Aboriginal word meaning 'Honeysuckle' - and is about 380km southeast of Adelaide, close to the border with Victoria. Coonawarra is a small region, only 20kms in length and 2kms in width, despite the size; it is home to more than 24 winery / cellar doors. The first vines were planted by John Riddoch at Yallum, South Australia in 1890 - and with Shiraz being the main grape variety grown.
Led by several leading wineries - The Coonawarra wine region played a leading role in the transformation of the Australian wine industry as it changed from making fortified wines to conventional table wines. Plus the region's terra rossa soil (red soil found on top of limestone) is perfect for grape growing.
Coonawarra's terra rossa soil is one of the most famous terroirs in the New World, covering an area just north of Penola. It lies on a shallow limestone ridge, raising it above the swampy land either side. To the west of the ridge lies black rendzina soil which is poorly drained, and so is much less favourable for vines. There is also a 'transitional', or brown rendzina, soil which grows vines quite successfully. This geological complexity led to many disputes during an eight-year period before Coonawarra was entered on the Register of Protected Names.
Being situated just 60 km from the ocean, Coonawarra has a somewhat maritime climate not dissimilar to Bordeaux. There is a periodic, major disadvantage to the maritime climate and that is spring frosts. The 2007 frosts wiped out up to 80% of some wineries crops, the frosts however, are rare. During the growing season, there is just 219mm rainfall (October - April), out of 585mm annually. Extensive cloud cover keeps the temperature down to approximately 19°C in January.
In 2019* - the region had approximately 5,293 ha of planted vines. Coonawarra is synonymous with quality Cabernet Sauvignon, full of rich plum and blackcurrant fruit and with an intense colour. So much so, that success with other grape varieties is somewhat overshadowed. Shiraz fruit produces some exceptional wines, and with the limestone geology also suiting Chardonnay, Riesling, and even Sauvignon Blanc.

Margaret River Wine Region: 
Margaret River is a renowned wine region in South Western - Australia, with approximately 5,671 hectares under vine and some 215 wineries as at 2019. Margaret River wine region is made up predominately of boutique size wine producers. The climate of Margaret River is more strongly maritime-influenced than any other major Australian wine region. It has the lowest mean annual temperature range, of only 7.6°C, and for good measure has the most marked Mediterranean climate in terms of rainfall.
The varied landscape is given character by the abundance of small creeks and gentle valleys, as well as the profusion of native trees, shrubs and flowers. In physical terms, a degree of protection from winds blowing in from the ocean is the most important factor.
The principal soil type is that of the ridge which runs from Cape Naturaliste to Cape Leeuwin; it is predominantly gravelly or gritty sandy loam that has formed directly from the underlying granite and gneissic rock. The soils are highly permeable when moist but moisture is quickly shed from sloping sites.
Cardiologist Dr. Tom Cullity planted the first Margaret River vines on 8 acres of land that he bought in 1967. He named his property 'Vasse Felix', a name the much-extended vineyard still bears today. The area known as Vasse was named after a French sailor named Thomas Timothee Vasse who was lost overboard off the coast in the area from the 'Naturaliste' in 1801. After dedicated research performed by Dr John Gladstones from the University of Western Australia, he published a paper in the Journal of the Australian Institute for Agricultural Science in 1961 which reignited the interest in the region.
It has been a mere 45 years since the first vines were planted, but near perfect growing conditions have enabled Margaret River to quickly become recognised as one of the world's great fine wine regions. The principal grape varieties are fairly evenly split between red and white; Cabernet Sauvignon, Chardonnay, Sauvignon Blanc, Sémillon, Shiraz, Merlot, Chenin Blanc and also Verdelho.
Celebrated as one of the world's most conducive areas for producing Chardonnay it's here you will find wines of great intensity, length and character. The region is possibly even more highly regarded for its Cabernet Sauvignon and Cabernet blends which are prized for their dense fruit flavours, multi-layered complexity and cellaring potential.
Margaret River is hugged by the ocean on three sides the resulting maritime influence lends itself to ideal growing conditions. The maritime climate provides natural assistance from the wind, rain and sun and is considered one of if not the most isolated and pure grape growing regions in the world. There is a sense of uniqueness of place and personality that comprises the Margaret River wine region. Although Margaret River contributes only around 3% of the country's wine grapes - it commands over 20% of Australia's premium wine market.

McLaren Vale Wine Region: 
The McLaren Vale wine region is approximately 35km south-east of Adelaide City in South Australia - and is internationally renowned for the wines they craft. Although initially the region's main economic activity was growing cereal crops, John Reynell and Thomas Hardy planted grape vines in 1838 - and today the Seaview and Hardy wineries have been in operation since 1850.
Grapes were first planted in the region in 1838 and some vines more than 150 years old are still producing. Today there are more than 500 registered grape growers, and approx 90 wine producers in McLaren Vale, with the majority being small family-run boutique wineries. McLaren Vale has a Mediterranean climate with four distinct seasons.
With a dry warm summer; the area has dry weather from December through to March or April, ideal for grape ripening, as it is gentle with long warm days and short cool nights. The region rarely experiences frost or drought due to its close proximity to the sea. The region is bounded to the south by the Sellicks Hill Range and to the west by the waters of Gulf St Vincent. The region extends east to the historic town of Clarendon and the area around the Mount Bold Reservoir and to the north to Reynella.
Famous for producing Shiraz, the grape is by far the most important variety for the region, accounting for about 50-55% of the total crush. The area's thin soils, limited water, and warm summers harness Shiraz's natural vigour and produce intense flavoured fruit, and wine with a deep purple-red colour that can last decades. McLaren Vale wines are distinguished by their ripeness, elegance, structure, power and complexity.
In 2019* - the region had approximately 7,173 ha of planted vines. McLaren Vale has 3,800 hectares of Shiraz under vine. Other major varieties include Cabernet Sauvignon with 1,288ha planted, Chardonnay with 567ha planted and Grenache with 454ha - other varietals include Mourvèdre, Tempranillo, Viognier, Marsanne, Riesling, Vermentino, Merlot and Sangiovese.
Most vineyards are found on gently undulating land at about 100m above sea level - though there are a few vineyards rising to 320m. The McLaren area has many different soil types which contribute to the wines from the area having different terroir. The soils include fertile red-brown earths, terra rossa, rendzina, soft sands and dark cracking clays. Some soil types allow grapes to be dry-grown, with approximately 20% of the total crop dry-grown - which produce small berries, sought after for their intensity of flavour.

Riverina Wine Region: 
The Riverina wine region is one of the most successful grape growing regions in Australia. The wine region grows 15% of the total wine grape production within Australia; with over 50% of the Riverina's wine production currently being exported. As a producer of specialist wine grapes, a wine style of international importance is Botrytis Semillon and the outstanding expression made from these grapes is a sauternes-style dessert wine.
In June 1912 John James McWilliam arrived in the area with his eldest son Jack and they planted 35,000 vine cuttings at Hanwood (some remain today and still bear fruit). In the spring of 1913 and were kept alive by carting water, until the irrigation channels arrived in October. The first grapes were picked in 1916 and sent to Junee for processing.
The varietals Doradillo, Shiraz and Malbec were planted from cuttings brought from the small town of Junee. Penfolds followed McWilliam's in 1919. In 1922 Penfolds offered eight-year grower contracts which were not renewed after their expiry which coincided with the Depression. Penfolds was followed by De Bortoli in 1928, Rossetto in 1930, Miranda in 1938 and West End in 1945.
Italian migrants were attracted to the region after the first and second world wars and brought viticultural expertise along with other important agricultural interests. Winery establishment has tended to occur in the irrigated areas, with only the Charles Sturt University winery at Wagga Wagga located outside.
The major varietals then were Pedro, Semillon, Trebbiano, Doradillo, Grenache and Shiraz. These varieties were grown predominantly for the production of fortified wines. As a result of the Depression and the collapse of prices, growers petitioned the NSW Government for the creation of a marketing board. Following a poll in 1932, the Wine Grapes Marketing Board was established in February 1933 with the role of representing grower interests with wineries. The Board continues to play this role today. Most vineyards are still on small family farms of about 20ha where other horticultural crops are also produced.
Rapid expansion of premium varietal plantings began in the late 1960's as the market moved away from fortified wine styles, acquiring a taste for red and white wines. The advent of botrytis affected sweet white wine styles for which the region is famous, began in 1958 at McWilliam's Hanwood winery. These particular wine styles have since gained extensive national and international recognition, with De Bortoli wine company at the fore. The region is also well renowned for Chardonnay, Pinot Noir, Shiraz and Cabernet Sauvignon wines.
The growth of the wine industry in the 1990s on the back of the export boom has seen grape production increase from around 100,000 tonnes to almost 300,00 tonnes. There are 16 major wineries in this area varying is size from 10 tonnes to 160,000 tonne capacity. With the region having such a low natural rainfall and the vines needing water at very specific times during their growing season, grapes can only grow economically with irrigation.
With an annual wine grape production of 290,000 tonnes in 2016, Riverina (centred on Griffith and Leeton - stretching 350k east-west and 270k north-south) is the largest grape producer in New South Wales with vineyards covering an area of around 17,248 hectares.
The region has an average annual rainfall of 406mm, spread evenly throughout the year. High evaporation and low relative humidity and high sunshine hours are features of the summer season. Autumn conditions favour the onset and spread of Botrytis cinerea, with April to May temperature of 14.3°C and humidity of 77%. Showers usually accompany this change of season, misty mornings and fog arise which govern the degree of the Botrytis infection. The higher humidity late in the season, allows the Botrytis development to occur after the picking of most of the white and red varietals.

Yarra Valley Wine Region: 
The Yarra Valley is recognised as one of Australia's foremost cool climate wine producing areas. Due to the diversity of terroir within the region, they are in the enviable position of being able to produce a range of classic wine styles from a wide range of grape varieties.
The Yarra Valley was Victoria's first wine growing district - with a history stretching back over 160 years. Vines were first planted in 1838, and viticulture spread rapidly through the 1860s and 1870s. However, increased demand for 'fortified wines' saw Yarra Valley wine production cease in 1921. Replanting began in the late 1960s and by the early 1990s the area under vines passed the high point of the 19th century. The Yarra Valley wine region is located or begins just 45 kilometres east of Melbourne's CBD.
This large wine region is bordered by the towns of Gembrook in the south, Kinglake in the north, Wantirna in the west and Mount Gregory in the east. Victoria's Yarra Valley wine region is a legally defined Geographical Indication (GI) - designed to protect the use of the regional name under international law. Therefore wine which is labelled 'Yarra Valley' must consist of at least 85% Yarra Valley fruit.
The soils of the middle area of the Yarra Valley are ancient, mountain-derived sandy clay loams interspersed with broken sandstone. The other soils are much younger in origin and are a brilliantly coloured red volcanic soil found in both the Upper and Lower Yarra Valley. The Yarra Valley has cooler growing conditions in relation to the rest of Australia's viticultural regions - (example: the region is cooler than Bordeaux but warmer than Burgundy) - with an elevation that varies from 50 metres to 400 metres.
Due to its location there is limited maritime influence and the small diurnal temperature range reflects the proximity to the sea. Frost is rarely a problem, but can affect the lower vineyards on the valley floor. The total area under vine as of 2019* was approximately 2,536 hectares - and with some 162 registered wineries in the region.
Chardonnay is the Yarra Valley's most widely planted white grape variety producing a range of styles. From complex, oaked wines to elegant restrained styles - also blended with Pinot Noir to form the base wine for quality sparkling wine. Pinot Noir is the most widely planted red grape variety, whilst a challenge to grow, Pinot Noir thrives in the Yarra's cool climate. The Yarra Valley wine region also offers and produces world class Cabernet Sauvignon and Shiraz.

Barossa Valley Wine Region: Video by Wine Australia: *(Aug. 2020)
Chardonnay in Margaret River Wine Region: Video by Wine Australia: *(Fe. 2018)
Tasmania Wine Region: Video by Wine Australia: *(Dec. 2019)
Australian Wine - Made Our Way: Video by Wine Australia: *(May 2019)