Asti DOCG:
Asti is a unique Italian sparkling wine - produced in the south-eastern area of Piedmont. With a particular focus around the two towns of Asti and Alba. Since 1993 the wine has been classified as D.O.C.G. and is one of Italy's largest producing wine appellation. Asti is very important to the Piedmont region, producing on average around 5-6 times the volume of the more well-known Barolo red wine.
Asti is crafted from the Moscato Bianco grape varietal, and is typically a sweet sparkling wine, low in alcohol and often served as an aperitif or with fresh desserts. Asti sparkling wine is not made through the use of secondary fermentation inside a wine bottle - but from a controlled delicate 'single' tank fermentation method.
Another sparkling wine called Moscato d'Asti is made in the region from the same varietal, but only slightly sparkling (frizzante) and is also low in alcohol 5.5%. The fermentation process is stopped earlier than Asti, retaining sugars and resulting in a lower level of alcohol.
The Moscato Bianco grape varietal has a long history in Piedmont along with Nebbiolo, being one of the oldest grape varietals in the region. However, the production of sparkling Asti is relatively recent, with the first sparkling Asti believed to have been produced around 1870 by Carlo Gancia who studied the Champagne method.
Asti can be made in the same traditional method used for Champagne - where the wines undergo a secondary fermentation in the bottle. Though today, typically they are made in a larger, more commercial method, in which the wine is allowed to go through fermentation in a large stainless tank. Since the 1950's the increasing demand made many producers turn to bulk wine production using the 'Tank Method' which makes the wine sparkling through a closed fermentation in a tank versus a secondary fermentation inside the bottle. When the wine was promoted to DOCG status in 1993, producers decided to distinguish themselves and improve their reputation and dropped the use of 'Spumante' in favour of the name Asti. Along with the change in name, a change in style; with several producers creating more modern styles of Asti that are less sweet, retaining natural fruit acidity and having more ripe fruit flavours. Recently some Asti winemakers have again taken to producing their wines in the Method Traditionnelle or Champagne method with secondary fermentation in the bottle.
Under Italian wine laws, Asti D.O.C.G. must be made from 100% Moscato Bianco, with grapes harvested at yields not greater than 10 tonnes / hectare. The finished wine must be fermented to a minimum alcohol that varies depending on the vintage, between 7% - 9.5% Alc/vol.
After the grapes are harvested, they are crushed and pressed, with the must transferred to large tanks where the temperature is lowered to near freezing in order to prevent fermentation starting. The tanks are sealed, pressurized and then the temperature is increased to allow fermentation to begin. The cooled grape juice is brought to temperatures around 20°C, which triggers the alcoholic fermentation with specific yeasts selected for special characteristics. Within the tanks the carbon dioxide by-product of fermentation is trapped, dissolving into the wine and creating the steady stream of bubbles.
Fermentation is allowed to continue until the wine has reached between 7% - 9.5% Alc and between 3-5% residual sugar and a pressure of 4-6 bars (about 60-80 psi). The wine is then chilled to stop fermentation before being sent to a centrifuge that filters and removes all yeast from the wine to prevent fermentation from resuming inside the bottle. The wine is then bottled, labelled and shipped. The patron saint of Asti is the 'San Secondo' horse that can be found on labels as a seal of quality. Most Asti is not vintage-dated, however the large consumption and quick turnover of the wine suggests that the current wines on the market are from the most recent vintage. Asti is typically a sweet style of sparkling wine, with over 50g/L of residual sugar. So serve it well chilled, and look to pair it with fresh fruits and desserts - enjoy.

Cava:
Cava is the name for a quality style of Spanish sparkling wine, produced in different areas of Catalonia, Navarra, Rioja, Andalucia, Valencia and Extremadura. But mainly in the Penedès region in Catalonia, situated 40km to the south west of Barcelona.
Cava is a Greek term that was used to refer to a 'quality' table wine or wine cellar, and comes from the Latin word 'cava' which means cave in English. Caves were used in the early days of Cava production for the process or aging of the sparkling wine.
Today Cava has become part of the Spanish culture, and at family gatherings often consumed at regular celebrations. The sparkling wine now known as Cava was first created in 1872 by Josep Raventos using the 'Traditional Method' - bottle fermentation.
The vineyards of Penedes were devastated by the phylloxera outbreak, and the predominantly red vines were being replaced by large numbers of vines producing white varietals. After seeing the success of the Champagne region, Raventos decided to create a dry sparkling wine that has become the reason for the region's continued success. In the past the wine was referred to as 'Spanish Champagne' (no longer permitted under EU law), or colloquially as 'champana' or 'xampany'.
Cava is produced in varying levels of dryness: Brut Nature, Brut (extra dry), Seco (dry), Semi-Seco (medium) and Dulce (sweet). Under Spanish Denominacion de Origen laws, Cava can be produced in six wine regions and must be made according to the 'Traditional Method' with second fermentation inside the bottle and uses a selection of the grapes Macabeo, Parellada, Xarel-lo, Chardonnay and Pinot Noir. Despite being a traditional Champagne grape, Chardonnay was not used in the production of Cava until the 1980's.
Cava is not the only sparkling wine made in Spain and sometimes consumers are fooled into accepting inferior quality. You can distinguish Cava by the cork, which should be marked on the base with a four-pointed star *(as shown below). Remember that the sweeter the Cava, the cooler it needs to be served: a brut nature can be served at around 10°-12°C, but a semi-seco should be served well chilled at approximately 6°- 8°C - enjoy.

Crémant:
The term / name Crémant is used for quality sparkling wines produced in France - that are made outside of the designated Champagne region, but use the same traditional method / technique (bottle fermentation) as used in Champagne to craft a sparkling wine.
Several sparkling wine appellations in France were given the use of this word 'Crémant' in 1990 - with an agreement that they would no longer use the term 'Méthode Champenoise', which was replaced with the term 'Méthode Traditionnelle', or 'Traditional Method'. Sparkling wines designated Crémant have to fulfill strict production criteria.
In France, there are now 8 appellations with the designation Crémant:
• Crémant d'Alsace - (AOC 1976)
• Crémant de Bordeaux - (AOC 1990)
• Crémant de Bourgogne - (AOC 1975)
• Crémant de Die - (AOC 1993)
• Crémant du Jura - (AOC 1995)
• Crémant de Limoux - (AOC 1938)
• Crémant de Loire - (AOC 1975)
• Crémant de Savoie - (AOP 2015)
There is also a Crémant designation outside of France: Crémant de Luxembourg - 1991.
French appellation wine laws dictate that a Crémant must be harvested by hand with vine yields not exceeding a strict set volume. The wines must also be aged for a minimum of 12 months before release. The Loire Valley region is currently France's largest producer of sparkling wines outside of the Champagne region.
The majority of these 'Crémant de Loire' are a blend of; Chardonnay, Chenin Blanc and Cabernet Franc. AOP laws do allow cuvees with Sauvignon Blanc, Cabernet Sauvignon, Pinot Noir, Gamay, Cot, Pineau d'aunis and Grolleau but those grapes are rarely used in a significant volume. In Burgundy, AOP laws require that Crémant de Bourgogne be composed of at least 30% Pinot Noir, Chardonnay, Pinot Blanc or Pinot Gris.
The Languedoc wine Crémant de Limoux is produced in the 41 villages around the village of Limoux in the south of France. The wine is composed primarily of the indigenous grape Mauzac with some Chenin Blanc and Chardonnay.
Since the designation Crémant is not reserved exclusively for French use (as a result of it replacing Methode Champenoise), it may also be used by producers in other EU countries which fulfill the production criteria, although such usage is currently rare.

Franciacorta DOCG:
Franciacorta is a high quality DOCG sparkling wine from Lombardy - Italy. Crafted from grapes grown within the borders of the Franciacorta wine region, grown on the hills around a series of villages to the south of Lake Iseo in the Province of Brescia. It received its DOC status in 1967, the designation then also including red and white still wines. In 1995 the DOCG classification was awarded exclusively to the sparkling wines of the area.
Franciacorta became the first DOC to specify that its sparkling wines must be made by 'Metodo Classico'. In 1990 the Consorzio per la tutela del Franciacorta was formed, instigating codes of self-regulation with a gradual reduction of yields and eliminating the use of Pinot Grigio, and responsible for the elevation of sparkling Franciacorta to DOCG in 1995.
Since the 1st of August 2003 - Franciacorta has been the only Italian wine 'not' obliged to declare its DOCG appellation on the label. There are 19 communes that make up Franciacorta wine area (including Brescia).
Grapes for Franciacorta are grown in strictly delimited vineyards in the communes of; Adro, Capriolo, Cazzago San Martino, Cellatica, Coccaglio, Cologne, Corte Franca, Erbusco, Gussago, Iseo, Monticelli Brusati, Ome, Paderno Franciacorta, Paratico, Passirano, Provaglio d'Iseo, Rodengo Saiano, Rovato and Brescia. Grown in mineral rich soils, granular-sized, calcareous gravel and sandy glacial soils that cover a limestone bedrock.
As of 2014, the DOCG vineyards cover around 2600 hectares and the distribution of permitted grape varieties are 82% Chardonnay, 14% Pinot Nero and 4% Pinot Bianco. In 2015, worldwide sales of Franciacorta achieved 16.5 million bottles.
Non-vintage Franciacorta may not be released until at least 25 months after harvest, of which 18 months must be in contact with yeast in the bottle. Franciacorta Vintage or Millesimato may not be sold until at least 37 months after harvest, of which 37 months must be in contact with yeast.
A Franciacorta Rosé must contain at least 35% Pinot Nero, Franciacorta Satèn must be a Blanc de Blancs with only the use of Chardonnay and/or Pinot Bianco. The designations for dosage are exactly the same as for Champagne.

Lambrusco:
Lambrusco is both the name a red wine grape varietal - along with an Italian sparkling wine made from the same grape. The grape varietal and the wine originate from 4 areas in Emilia-Romagna and 1 area in Lombardy, but mainly around the central provinces of Modena, Parma, Reggio Emilia and Mantua. Records show that the Etruscans cultivated the vine, giving further evidence to the varietals long history in Italy.
The most recognised style of wines are the frizzante (slightly sparkling) red wines that are crafted and designed to be enjoyed young from one of the 6 Lambrusco DOP's: Lambrusco Grasparossa di Castelvetro, Colli Di Parma Lambrusco, Lambrusco di Sorbara, Lambrusco Salamino di Santa Croce, Lambrusco Reggiano & Lambrusco Mantovano.
• There are 11 grape varietals - but the 6 most typically used are: Lambrusco Salamino, Lambrusco Maestri, Lambrusco Marani, Lambrusco Montericco, Lambrusco Grasparossa and Lambrusco Sorbara, and all are indigenous to Emilia. The grape itself is not particularly sweet but many of the sweet Lambrusco wines are made by either partial fermentation or with the addition of the sweeter Ancellotta grapes to the final wine blend.
When fermented dry, the Lambrusco grape is capable of producing a wine with strawberry notes and a slight bitter finish. Today it is thought to be over 60 clones of the Lambrusco varietal, scattered throughout Italy including; Piedmont, Sicily and Veneto. Along with some small planted areas in Australia and Argentina.
Although traditional Italian Lambrusco was produced as a sweet wine, today there are various levels of sweetness & dryness, including: Secco (dry), Amabile (off-dry / slightly sweet) and Dolce (sweet). The wine is also noted for high acidity and bright berry flavours. Today the wine is rarely made in a 'bottle fermented' style - it is typically made using the 'Method Itaiano' process where secondary fermentation takes place in a pressurised stainless steel tank.
It still must be made from at least 85% Lambrusco grapes, with the remaining 15% often being made up with Ancellotta. Even though today there are many other sparkling wine options - Lambrusco is still popular in a few wine markets.

Moscato d'Asti DOCG:
Moscato d'Asti is a 'Denominazione di Origine Controllata e Garantita' (DOCG) tank fermented sparkling wine - crafted from the Moscato Bianco grape varietal. This specific style of sparkling wine is produced in the province of Asti in north-west Italy. This unique sparkling wine is sweet in style and low in alcohol, and can be enjoyed as an aperitif or with a variety of desserts and fresh fruits. In Italy and around the globe it is actually considered more as a dessert wine, taking its name from the town it is produced and from grapes names.
Moscato d'Asti is made by small and large wineries alike, from hand-picked grapes grown in the hilltop town of Asti in Montferrat area. In Medieval times, it was very popular, with the first documents referring to it in Piedmont dating back to the 14th century.
Today Piedmont winemakers traditionally make this vibrant sparkling wine with Muscat à Petits Grains, also known as Moscato Bianco. This small berrygrape varietal ripens early and produces a wide range of wine styles from: light and dry, slightly sweet and sparkling or a rich, honey-like rich dessert wines which can age.
Moscato Bianco is considered one of the oldest grapes grown in this region. Though the modern production of Moscato d'Asti as it is known today began in the 1870s. The style of wine is made in the frizzante (semi-sparkling) style, Moscato d'Asti was the wine which winemakers generally made for their own enjoyment. This low-alcohol wine could be enjoyed at lunch or the middle of the day with meals and would not slow the winemaker down or their workers. After the workday - there is a Piemontese tradition of long, multi-course evening meals which gave Moscato d'Asti the purpose of a digestif - that cleansed and refreshed the palate and stimulated the palate for dessert - where it pairs so well.
The Piedmont region where Moscato Bianco is grown - has the perfect blend of limestone and sandstone soils which provide ideal moisture retention and lifted flavours and aromas. The grapes are harvested at their optimal brix level and then on arrival into the winery they are gently crushed. The must is chilled almost to the point of freezing to halt the fermentation process until the time is right.
Fermentation takes place in a stainless steel tank 'autoclave' - ideal to preserve the natural CO2 produced from the fermentation process. Fermentation is stopped at 5 - 5.5% Alc by reducing the temperature. Typically, there is no malolactic fermentation which is designed to preserve natural acidity (to balance with the levels of residual sugar), plus to express varietal fruit characters and freshness. The sparkling wine is typically held at cool temperatures in stainless steel tanks until time for bottling.
By DOCG law, Moscato d'Asti can only be a maximum of 5.5% Alc./vol - so the fermentation process is stopped which results in a high level of natural sugars left in the finished wine - *(a typical bottle of Moscato d'Asti has around 90-100 g/L of residual sugar). Unlike Champagne, there is no 'secondary fermentation' allowed inside the bottle. Right before bottling, the Moscato d'Asti goes through a filtration process that leaves the wine with a translucent pale straw-lime colour. Best served and enjoyed in a flute glass at 6°- 9°C.

PÉT NAT:
In French, Pét Nat (which is short for Pétillant Naturel) means 'naturally sparkling' and is produced using the Méthode Ancestrale (Ancestral Method) production technique. It is one of the oldest methods of making sparkling wine. If your experience with sparkling wines is primarily with: Champagne, Méthode Traditionnelle Prosecco and Cava, then Pét Nat will be a slightly new experience for you. Pét Nat is a rustic, moderately sparkling wine, with an unorthodox nature (they endear themselves to natural-wine lovers) and have been described as an alternative for homemade cider and craft-beer drinkers.
Pét Nat is a sparkling wine made by a shorter, more relaxed process, with a single fermentation in one continuous process. Rather than making a still dry base wine and then adding sugar and yeast to create the second fermentation (like in Champagne or Méthode Traditionnelle). A winemaker will bottle a partially fermented base wine, that continues to ferment inside the bottle to create the bubbles (approximately 3 atmospheres of pressure) - and remains untouched by human hands until it is opened and served. So each bottle has an element of unpredictability. Pét Nat or 'méthode ancestral' wine originated in the region of Limoux in south-western France in the 16th century, so it is described, as the original way of producing sparkling wines.
It must be made clear (unlike the wine) Pét Nat is very different to Champagne. It is more accessible in terms of price point, and the resulting wine flavours are generally more rustic. Where Champagne relies on ageing and yeast autolysis (time on lees) to give those complex nuances and typical yeasty, brioche aromas, Pét Nat wines are generally created to be served young - with a raw fruit freshness, and a direct signature of the harvested grapes used. They are also often bottled with a little bit of residual sugar.

'Pét Nat wines are made to be served young and fresh in the spring after harvest'
Pét Nat wines are typically lighter and lower in alcohol, making them suitable for drinking at more casual occasions, like a picnic or light meals, mezza, tapas and alike. With the recent surge in interest and experimentation - not all Pét Nat wines are the same, though; most are made to be served young and fresh in the spring after harvest, you can find a few slightly more serious examples capable of ageing a year of two and developing deeper notes that you might match with food.
Yes - the majority of Pét Nat wines are a cloudy, natural wine, but that's not the case for all. There are some that are disgorged (the removal of the sediment from the wine) - and the wine is a clear, fresh and detailed wine - and is less prone to faults than its cloudier counterparts.
So - if your Pét Nat wine is closed with a bottlecap (crown cap) it is a sign that it will probably be a little cloudy and funky in character. Whereas if it is bottled with a Champagne cork/stopper, this is a good indication it has been disgorged and will have a clearer, and with a cleaner quality on the palate.
Pét Nat wines can be white, rosé or red in colour. Please be aware that even unopened bottles do not have a particularly long shelf life *(so store in a cool, dark place) and once opened try to enjoy that same day.


Prosecco DOCG:
Prosecco is a vibrant Italian sparkling wine with a citrus core. Italy's answer to a refreshing sparkling wine, made predominantly from a white grape varietal called Glera. The grape is grown mainly in the northern region of Veneto in the foothills of the Alps, traditionally in an area near Conegliano and Valdobbiadene, north of the city Treviso. It is believed that Glera was already produced in Roman times and is one of the oldest wine grapes in Italy ranking approximately 14th in importance among the country's 2000+ grape varietals.
The name of Prosecco is derived from the northern Italian village of Prosecco (Trieste), where the wine is believed to have its primary origins. Up until the 1960s, Prosecco was generally sweet and barely distinguishable from the 'Asti Spumante' wine produced in Piedmont.
Since then Prosecco production techniques have improved considerably, leading to the high-quality, fresh, citrus focused, drier sparkling wines produced today across the region.
Since 2009 Prosecco is protected as a DOCG, as Prosecco di Conegliano-Valdobbiadene, Prosecco di Conegliano and Prosecco di Valdobbiadene.
Prosecco is a combination of 85% Glera and 15% of Verdiso, Bianchetta, Perera and Glera Lunga grapes, and in a few recent expressions a small amount of Pinot Grigio, Pinot Noir and Chardonnay grapes. Prosecco is made using the 'Charmat Method' - (Metodo Italiano) rather than the Champagne method. The Charmat method allows the wine to go through the second fermentation in pressurised tanks rather than inside individual bottles.
The much shorter, more controlled secondary tank fermentation process is preferable for Prosecco, because it preserves the freshness, aromatics and the citrus flavours of the Glera grape. Most Prosecco wine achieves lower alcohol levels of (11% to 11.5%) and are best consumed within 2-3 years after bottling, or of its vintage, but the highest-quality Prosecco wines can be aged for up to 7 years.
How Prosecco Sparkling Wines are labeled for Sweetness: *(grams per litre)
• EXTRA BRUT: the sugar content is between 1 - 6g/L
• BRUT: the sugar content is between 6 - 12g/L
• EXTRA DRY: the sugar content is between 12 - 17g/L
• DRY: the sugar content is between 17 - 32g/L
• DEMI-SEC: the sugar content is between 32 - 50g/L
NB: Do not be overwhelmed or too concerned about the level of sugar in 'Extra Dry' & 'Dry' Style Prosecco wines. As these styles offer a great balance between the Prosecco grapes natural level of fruit sweetness, and lifted levels of vibrant acidity. Resulting in a rounded, subtle sweetness in this easy drinking & enjoyable sparkling wines - that pair well with: chilled watermelon or rock melon, sorbet, and fresh fruit desserts.
In 2007 approximately 150 million bottles of Prosecco were sold worldwide, with around 60% of all Prosecco being made in the Conegliano and Valdobbiadene areas. In 2013 there were 307 million bottles of Prosecco wines sold worldwide, for the first time out selling Champagne sales of 304 million bottles. *(In 2019 there were 486 million bottles of DOP Prosecco made).
Italians consider Prosecco an ideal apperitivo or ombrette (pick-me-up). Prosecco is also delicious when combined with fresh peach juice to make Venice's most famous cocktail, the Bellini and Poinsettia. Prosecco is crisp and clean and pairs nicely with seafood - especially calamari, shellfish and crab-meat; best served in a 'tulip shaped glass' at 6º - 9ºC - enjoy.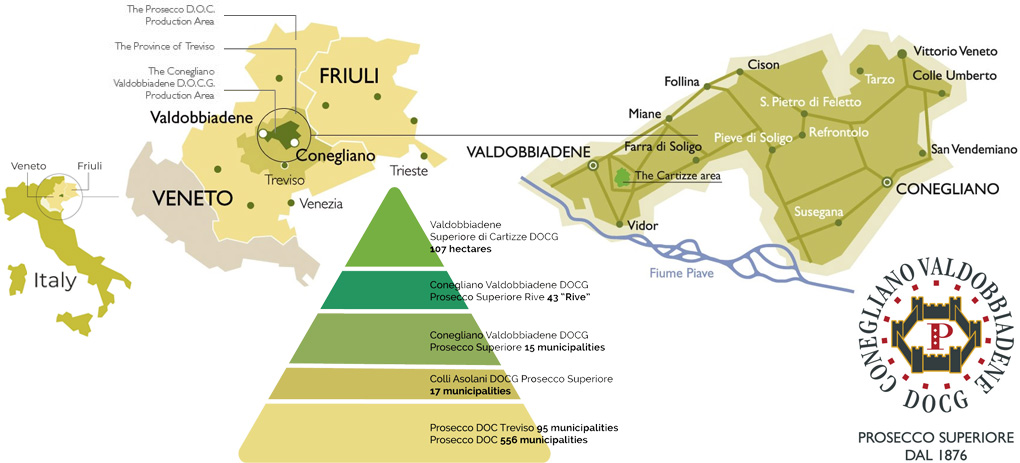 Sekt:
Sekt is the German word for quality sparkling wine. Around 95% of all Sekt produced is made by 'tank-fermentation' with the remaining 'Premium' Sekt made by 'Methode Traditionnelle'. Low-cost sparkling wines made with CO2 injection - cannot be called Sekt, they are called Schaumwein (German for 'foam wine'), semi-sparkling wine is called Perlwein. Also - nearly 90% of all Sekt is made partially from imported grape juice from Italy, Spain and France. Sekt labeled as 'Deutscher' Sekt is made exclusively from German grapes and Sekt b.A. - only grapes from one of the 13 quality wine regions in Germany.
Premium Sekt wines are made using: Riesling, Pinot Blanc, Pinot Gris and Pinot Noir grapes, with much of it consumed locally rather than being exported.
These Sekts are usual vintage dated with the village and vineyards that the grapes are from. Premium Sekt b.A. produced in smaller lots is often referred to as Winzersekt - (winegrower's Sekt), as it is typically produced by a winemaker which has his own vineyards, rather than by the large Sekt-producing companies which buy grapes or base wine on a large scale for their production.
German production of sparkling wines dates back to 1826, when G. C. Kessler & Co. was founded. The names used by German producers for their sparkling wines in the 19th century were 'Mousseux', 'Sect' or 'Champagne' - but the 1919 Treaty of Versailles prevented Germany from using this name, long before E.U. regulations prohibited its use outside of the Champagne wine region in France.
Sekt was initially an informal German name for sparkling wine, coined in Berlin in 1825, but was in common use by the 1890's. Germany long attempted to have the name Sekt reserved for sparkling wine from countries with German as an official language, but these regulations were ended by the European Court of Justice in 1975.
Austrian Sekt is often made with the Welschriesling and Grüner Veltliner varietals - giving the finished sparkling wine a golden colour. German and Austrian Sekt can be made: Trocken (dry) or Halbtrocken (medium dry).

Transfer Method:
The Transfer Method (also called 'méthode transfert' in French) - the technique was developed in Germany in the 1940's. The process follows the first steps of 'Méthode Champenoise' (Traditional Méthode) - in that after primary-first fermentation of the cuvée (blend) is assembled and transferred into bottle to complete the secondary fermentation.
When the secondary fermentation is complete and the wine has spent the desired amount of time in bottle on yeast lees (six months is the requirement to label a wine 'bottle fermented', though some producers only wait 90 days) then the individual bottles are transferred (hence the name) into a large pressurized stainless steel tank - where it is filtered, removing the lees / dead yeast sediment. Unlike in the Traditional Méthode - no riddling and disgorging is used.
The wine is then filtered, the liqueur de expedition (also known as dosage - level of sugar) is added in bulk, and then made ready to be bottled under pressure. The final result is fairly indistinguishable - and then when ready filled into new (perfectly clean) bottles - corked and when required labeled for release onto the market.
This method is a less expensive alternative to the time-consuming and extremely involved manual process used in the traditional méthode process. It also allows for complexity to be developed into the wine, but also gives scope for blending options after the wine has gone into the bottle and reduces the bottle-to-bottle variations that can be hard to control in the 'Traditional Champenoise Méthode'. Though there will always be detractors who feel that the process strips finer flavour elements from the wine, especially key yeast flavours & palate characters.
Even though it is said to be a less expensive process when compared to the Traditional Méthode. It must be noted that the set up costs can be inhibitive for many - as the machinery (i.e. the specifically designed pressurized tanks & bottling line) are expensive.
A bottle label or tasting note stating - 'Fermented in this bottle' means Méthode Champenoise / Traditionnelle - whereas 'Fermented in bottle' refers to the transfer process; so I encourage you to read the fine print on the label.
Champagne *(Méthode Traditionnelle producers) generally use the transfer method to produce any size bottle smaller than 750mls or larger than 3 litre, plus limited edition bottle shapes and sizes - though there are several Champagne Houses which bottle ferment in 3 litre bottles and even larger - (e.g. Melchizedek - 30 litres = 40 bottles; by the Drappier family).