Amarone:
Amarone della Valpolicella is a generous, full-bodied Italian red wine, traditionally made from partially drying the following grapes varietals: Corvina, Rondinella and Molinara. The wine achieved D.O.C. status in 1968 and on the 4th December 2009, Amarone and Recioto della Valpolicella were promoted to the status of D.O.C.G. The name Amarone in Italian - translates to 'the Great Bitter' - and so was used to distinguish it from the 'Recioto' wine produced in the same region, which is typically a much sweeter style wine.
Ripe grapes are harvested in the first two weeks of October, carefully selecting bunches, with fruit not too close together, allowing natural air flow. Grapes are allowed to dry, traditionally on straw mats. This process is called 'appassimento' or rasinate (to partially dehydrate and shrivel) in Italian.
This concentrates the remaining sugars and flavours. The pomace left over from pressing off the Amarone is used in the production of 'Ripasso' Valpolicella. Modern Amarone is now produced in special drying chambers under controlled conditions. This approach minimizes the amount of handling of the grapes and helps prevent the onset of botrytis. For an Amarone, the quality of the grape skin is a primary concern as these brings the tannins, colour and intensity of flavour to the wine. The process of dehydration not only concentrates the juices within the grape but also increases the skin contact of the grapes.
The length of the grape drying process is typically 120 days - but varies according to producer and the quality of the harvest. The most evident consequence of this process is the loss of weight from 25 to 45%. Following drying the grapes are crushed and then go through a dry, low temperature fermentation process which can last up to 30-50 days. After fermentation, the wine is then aged in barriques made from either French or Slovenian oak.
• Amarone della Valpolicella wines must consist of a blend of grapes within the following percentages: Corvina Veronese between 45% and 95%. It is also allowed that a percentage of Corvinone up to 50% in substitution to a similar percentage of Corvina, with Rondinella between 5% - 30% and currently 5-10% of Molinara. It is possible to include in the production of Amarone up to a maximum of 10% of grapes coming from the following varietals: Negrara, Forsellina, Pelara and Oseleta.
At the end of the drying period, grapes should have a minimum natural alcohol of 14%. Before being released onto the market, wines labeled 'Amarone della Valpolicella' must undergo a period of ageing of at least 2 years from January 1st of the year following the vintage of the harvest. Amarone della Valpolicella wines labeled 'Riserva', should age for a minimum period of 4 years from November 1st of the harvest vintage.

Barolo:
Barolo is a D.O.C.G. red wine produced in the northern wine region of Piedmont in Italy. Made from the Nebbiolo grape, it is often described as one of Italy's greatest red wines. The zone of production extends into the communes of Barolo, Castiglione Falletto, Serralunga d'Alba and parts of the communes of Cherasco, Diano d'Alba, Grinzane Cavour, La Morra, Monforte d'Alba, Novello, Roddi, Verduno, all in the province of Cuneo, south-west of Alba.
Only vineyards planted in predominantly calcareous-clay soils in the hills with suitable slopes and orientations are considered suitable for Barolo production. The current day Barolo wine area is approximately 3 times the size of the nearby Barbaresco wine area; with around 1250 hectares of planted grape vines.
In addition to the limits on crop yields and levels of alcohol - to be labeled D.O.C.G., a Barolo wine must have at least two years aging in oak and at least one year aging in the bottle before release. For wines labeled Barolo 'Riserva', 5 years of total aging is required, with at least three of those years being in oak barriques.
In the past, Barolo wines were often very rich on tannins, taking more than 10 years for the wine to soften and become ready for drinking. In order to appeal to more modern international palates, which prefer more fruit driven, earlier drinking red wine styles. Several producers have cut fermentation times and also age their wines in new French barriques (small oak barrels) - rather than Foudres. Traditionalists argue that the wines produced in this way are not distinguishable as Barolo and taste more new world than of a 'classic' Barolo wine.
Barolo's tend to be rich, deeply concentrated full-bodied red wines with confident tannins and fruit acidity. Barolo's have the potential for a wide range of complex and exotic aromas with charred oak and roses being common notes. Other aromas and flavours associated with Barolo's include; mocha-chocolate, dark fruits, plums, eucalyptus, leather, liquorice, mulberries, dried spices, tobacco leaves, truffles as well as dried and fresh herbs.
Brunello di Montalcino:
Brunello di Montalcino is an Italian red wine produced in the vineyards surrounding the picturesque hilltop town of Montalcino located 30km south of Siena in the Tuscany wine region. Brunello di Montalcino has worked extremely hard over the past two decades to be recognised as one of the most prestigious of Italian red wines.
The wine is made exclusively from Sangiovese grapes grown in Montalcino. Brunello translates roughly as 'little dark one', the local name for Sangiovese Grosso, the larger berry form of Sangiovese which grows well around the hilltop town of Montalcino.
In 1879 the Province of Siena's Amphelographic Commission determined, that Sangiovese and Brunello were the same grape varietal, and that the former should be its designated name.
In 1980, Brunello di Montalcino was awarded the first Denominazione di Origine Controllata e Garantita (D.O.C.G.) designation and today is one of Italy's best-known, regarded and most expressive style of red wines.
The success and style of wine that we know and enjoy today, a great deal of the credit needs to go to Ferruccio Biondi-Santi - a soldier of the Garibaldi campaigns. He saw the benefit of vinifying the Sangiovese grapes separately from other varietals. As at the time it was common practice to co-ferment different clones as well as both red and white grape varieties together in many parts of Tuscany. The wines were then aged for quite some time in barrel, for some wines this was 10 years or more, though the wines retained their freshness and vibrancy on the palate. Today there is about 3600ha planted and around 200 small winemakers and estates producing high-quality interpretations of this red wine.
Brunello's D.O.C.G classifications request vineyards must be planted on hill slopes with a good aspect, at altitudes not exceeding 600 meters. This limit in altitude is intended to ensure the grapes reach physiological ripeness and flavour; any higher and the meso-climate becomes unreliable. The climate in Montalcino is fortunately one of the warmest and driest in Tuscany, so achieving ripeness is seldom a problem for the grape growers of Brunello.
● By law a Brunello di Montalcino, must be crafted from 100% Sangiovese and aged for at least 4 years and for a 'Riserva' style wine 5 years. The wine must spend at least two years in oak barrels, and then rest in the bottle for another four months prior to being released onto the market. The elegance and structure of these wines - resulting from these strict laws - creates wines with a brilliant bouquet of dark berries with dried spices, leather and violet notes, and the finest wines showing hints of earthiness and a full and balanced finish that lingers.

Chianti Classico:
Tuscany has been producing wine for a very long time - with the Etruscans making wine from the 8th century BC. Though it is this year 2016 that 'Chianti Classico' celebrates 300 years of history since the 25th September 1716. The Grand Duke of Tuscany, Cosimo III de' Medici decided to define the boundaries of selected areas for the production of quality wines, for the first time in history. The Grand Duke set the original 70,000 hectare Chianti boundary between the cities of Florence and Siena in a legally recorded document in 1716.
Found in the archives of the 'Castle of Brolio' were two preserved documents designated to Tuscany, the first laws regarding appellation of origin. The first document, dated 7th July 1716, was a mandate issued by the Grand Duke of Tuscany Cosimo III, establishing a 'Congregation of Wine'.
The 'Consorzio Vino Chianti Classico' shows this year on its logo. The second document, dated 25th September 1716, (which this article and the celebration is referring to), is for the Consortium to confirm each wine is within the set boundaries for the production of wine and to set strict standards for the trade of these wines. The Consortium was to oversee the registration of vineyards, the supervision of production, the declaration of sales, shipping and control fraud in the wine trade.
It was back in 1872 Baron Bettino Ricasoli, owner of 'Castello di Brolio' and second prime minister of the recently united Italy, described that Chianti wine should be made as a blend of Sangiovese, Canaiolo and Malvasia grapes.
During the early part of the 20th century the popularity and demand for 'Chianti Classico' wines soared. The original production area could not keep up with this demand and imitation wines were made outside of the 'Chianti Classico' zone and so arrived on the market branded under the Chianti Classico name.
It was in 1924, when the 'Consortium for the Protection of Chianti Wine' and its 'Trademark of Origin' was established to protect the 'Chianti Classico' name, choosing the 'Black Rooster' as its emblem. This was the historic emblem of the 'Lega Militare del Chianti', reproduced by Giorgio Vasari in his Allegory of Chianti frescoed on the ceiling of the 'Salone dei Cinquecento' in Florence's Palazzo Vecchio. And which is used on bottles today.
In fact, it was not until 1932 - that the adjective 'Classico' was added by ministerial decree to distinguish the original Chianti from the wine made outside the territory defined in 1716. Then in 1984, Chianti Classico received the D.O.C.G. status - *(DOC in 1967), the highest classification in Italian wine. Then in 1996 Chianti Classico became an independent D.O.C.G. And in the same year the use of 100% Sangiovese grapes was authorised *(a minimum of 80%) in the production of Chianti Classico wine. From the 2006 vintage white grapes were banned from Chianti Classico.
Then in 2010 a change in Italian law bans the production of 'Chianti' wine within the 'Chianti Classico' production area. And most recently in 2013, the assembly of the 'Consorzio Vino Chianti Classico' members approved a set of changes to production regulations leading to a revamping of the denomination, and the 'Gran Selezione' was born.
● So historically, it seems now to be agreed and supported by authentic documentation that Chianti Classico is the world's first exclusive protected vineyard 'boundary' area of production - introduced in Tuscany, Italy in 1716. And the first protected 'wine classification system' being in Tokaj-Hegyalja, Hungary starting in 1730.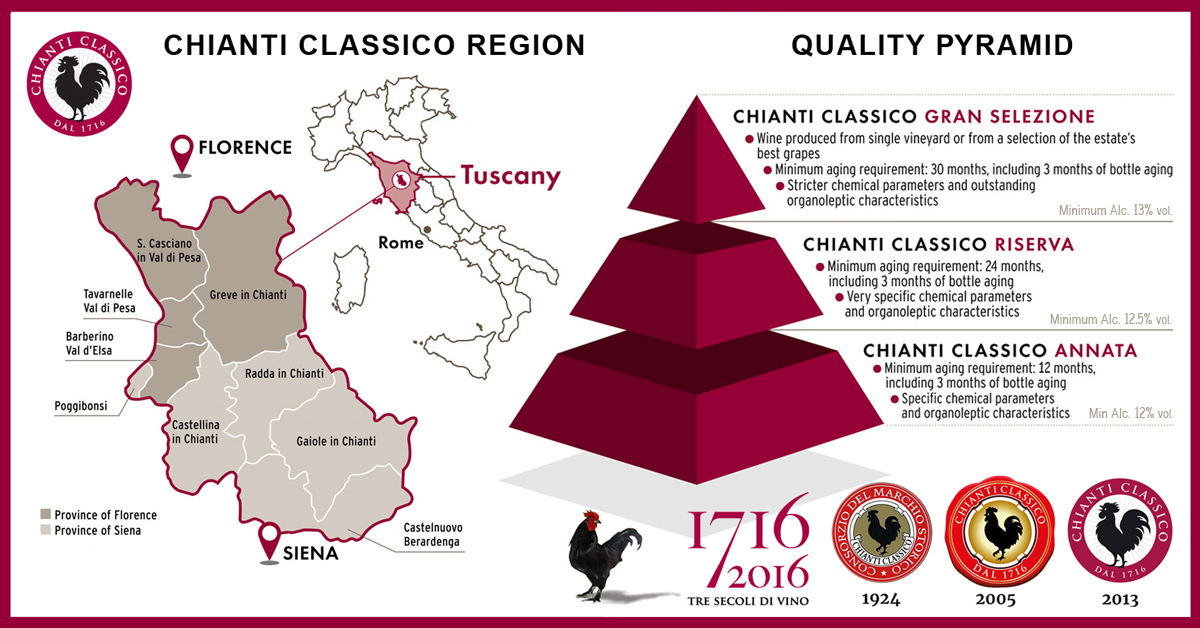 Marsala:
Marsala is a wine produced in the region surrounding the town of Marsala on the western point of Sicily. While the natives drink 'vintage' Marsala, the wine made for export is a fortified (with a distilled spirit) wine similar to Port. Originally fortified to ensure that it would last the long voyage to the UK, it is now made this way due to its popularity.
The introduction of Marsala to a wider audience is attributed to the English trader John Woodhouse. The name came from the Greek warlord Marsala who believed his men fought with more flair by drinking a little before battle.
In 1773, Woodhouse landed at the port of Marsala and discovered the local wine. Made using a process called 'in perpetuum', similar to the solera system used to make Sherry.
Marsala proved so successful in England, that Woodhouse returned and in 1796 began mass production. In 1833, entrepreneur Vincenzo Florio bought great swathes of land and set to making his own exclusive Marsala. Florio purchased Woodhouse's firm, and others, in the late 1800's and consolidated the industry. Florio is one of the leading producers of Marsala today.
Marsala is produced using; Grillo, Inzolia, and Catarratto white varietals. The wine is characterized by its fairly intense amber colour, and its complex aroma. There are 3 levels of sweetness: secco (a maximum of 40 grams residual sugar per litre), semi-secco (41-100 g/L) and sweet (over 100 g/L). Marsala typically has 17-20% Alc./vol.
Marsala Classifications:
● Fine - has minimal aging, typically one year, 8 months in oak.
● Superiore - is aged at least two years, 20 months in oak.
● Superiore Riserva - is aged at least four years, 44 months in oak.
● Vergine Soleras - blend of multiple vintages aged at least five years, 56 months in oak.
● Vergine Soleras Stravecchio or Soleras Riserva - is aged for at least ten years, with 116 months in oak.
Traditionally served as an aperitif; today it can be served chilled and paired with Parmesan, Gorgonzola, and other rich cheeses, with dried fruits, pastries, or at a cool room temperature as a dessert wine. Marsala is frequently used in cooking, especially in Italian restaurants, e.g. Marsala sauce, one of the most popular recipes is Chicken Marsala; Marsala is also used in risotto recipes, and is used to produce rich Italian desserts such as zabaglione.

Orvieto:
The Orvieto wine region is situated in the Umbria and Lazio areas of central Italy - with vineyards planted around the town of Orvieto. Internationally renowned for its white wines crafted from a blend of predominantly Grechetto and Trebbiano. These wines are labeled under the DOP Orvieto and Orvieto Classico. The regions blended red wines and 8 varietal red wines are sold under the classification of Rosso Orvietano DOP.
Viticulture was introduced to the region by the early Etruscans, who carved out cellar-like caves from volcanic soil. In these caves they produced wines from long, cool fermentation and created a type of sweet wine that was popular at the time, made with the noble rot (Botrytis) described by the poet Gabriele d'Annunzio as "the sun of Italy in a bottle".
Today - white Orvieto wines are dry, off-dry and a semi-sweet style, known as Orvieto Abboccato, and dolce (sweet), are also produced in small quantities.
White Orvieto is composed primarily of Grechetto and Trebbiano and a blend of Malvasia, Drupeggio, Verdello and Canaiolo Bianco grapes. Grechetto is valued for its fruitiness and palate weight that it brings to a wine; some of the most highly rated examples of Orvieto have a high concentration of Grechetto.
Orvieto became a papal stronghold and one of the richest cities in Italy. As Orvieto wine became famous, the wine was renamed 'the Pope's wine'. When the Orvieto cathedral was built it was used to pay the workers. Luca Signorelli, the Italian Renaissance painter who painted the frescoes of the 'Last Judgment' in the Cathedral of Orvieto, he asked to the paid with 1000 litres of Orvieto wine every year.
Today there are 4 classifications of Orvieto DOP wines:
• Orvieto DOP
• Orvieto Classico DOP - produced in the ancient area.
• Orvieto Superiore DOP - low yield, of superior quality in respect of Orvieto DOP.
• Orvieto Classico Superiore DOP - grown in the ancient wine area, low yields, top-quality Orvieto.

Ripasso:
In the late 20th century, a new style of wine known as 'Ripasso' (meaning: re-passed, re-fermented) emerged with more frequency. This unique winemaking technique utilises the pomace of leftover grape skins and seeds from the fermentation of 'Recioto' and 'Amarone' - and these pressed grapes are added to a portion of Valpolicella wine for a period of extended maceration.
The Valpolicella wine made during the current vintage is saved, and placed on top of the pressed grape skins and other particulate residue in the vats / tanks just used and allowed to ferment further with the skins and other grape residue, thereby acquiring additional aromas, flavour and structure to the wine. This process, which can last from 2 to 3 weeks - adds colour, tannins, an earthy notes and palate texture to the final wine.
The additional food source for the remaining fermenting yeasts helps boost the alcohol level and body of the wines while also leaching additional glycerin and some phenolic compounds that contribute to a wine's complexity and length.
As the production of Amarone has increased considerably at the start of the 21st century, so too has the occurrence of 'Ripasso' style wines appearing on the wine market. As most Amarone producers are also producing a 'Ripasso' as a type of 'second wine'. An alternative method is to use partially dried grapes, instead of leftover pomace, which can contain less bitter tannins and even more phenolic compounds.
One of the most well-known Valpolicella producers to commercially market a 'Ripasso' wine is the Pasqua Family. When the style first became popular in the late 20th century, it was rarely noted on the wine label. There was also debate about whether it was even permitted to be included under DOC regulations. If it was mentioned at all it was relegated to the back label wine description notes.
Today the term 'Ripasso' is freely permitted to be used, with several examples on the wine market labeled as being made in the 'Ripasso' style. Then in late 2007, 'Ripasso della Valpolicella' received its own DOC designation - enjoy.

Soave:
Soave is a unique dry style white wine grown and crafted around the village of Soave, near Verona in the Veneto wine region of northern Italy. It is one of 77 Italian DOCG regulated wines as of December 2020. Soave is the name given to the dry white wine - with Garganega being the principal indigenous white grape varietal used the make this vibrant wine style.
Soave is also a small medieval village located in the province of Verona, approximately 30km's east of Verona, a must stop on your way to Venice. The Soave wine production is situated in the eastern part of the hills and the region includes part or all of the vineyards belonging to the municipalities of; Soave, Monteforte d'Alpone, San Martino Buon Albergo, Lavagno, Mezzane, Caldiero, Colognola, Illasi, Cazzano, Ronca, Montecchia and San Giovanni Ilarione.
• Soave is generally made to be enjoyed a year or two after the harvest - and is often vinified in stainless steel tanks to retain as many fresh varietal characteristics, showcasing citrus and green fruits.
• Soave Classico DOC, the use of this specification 'Classico' is reserved for wines made from grapes harvested and vinified in the municipalities of Soave and Monteforte d'Alpone, which are the original and oldest classic wine areas. This restricted production zone lies on the hills in the communes of Soave and Monteforte d'Alpone. A Soave DOC must be at least 70% Garganega. You can add up to 30% of Trebbiano di Soave (a local clone of Trebbiano) and Chardonnay. Within this 30% it is also possible to include upto 5% of the other approved white grapes in the province of Verona: Pinot Blanc, Pinot Grigio, Riesling and Sauvignon Blanc.
• Recioto di Soave DOCG (a sweet dessert wine style) - is produced in small volumes on hillside sites already noted in the regulations for the production. There are also new regulations for planting new vineyards; they must be trained using the 'Espalier' - Trellis System with at least 4000 vines per hectare. For those vines planted before 2002, the Pergola Incliante and Pergoletta Veronese systems are allowed.
• Soave DOCG can only be released to the market after the 1st September of the year following harvest and after 6 months aging of at least 3 months in bottle - so as to emphasize its characteristic maturity and complexity. Wines aged a minimum of 12-14 months may be labeled as 'Riserva'. The Garganega varietal with help from the subtle use of French oak can make white wines full of flavour and interest.

Valpolicella:
Valpolicella is a blend of history, tradition and culture, enriched by wonderful wines and cuisine. The traditional dishes of the area paired with the finest of its fruit driven, generous wines: Valpolicella Classico, Superiore, Recioto, (Recioto della Valpolicella) and Amarone.
Valpolicella is a red wine produced in the foothills of the Alps, located north-west of Verona, in an area sandwiched between the mountains and Lake Garda.
Typically Valpolicella has 11% alcohol (12% for Superiore) and no more than 45-95% Corvina Veronese, 5-30% Rondinella and 5-20% Molinara, all indigenous grape varietals. The winemaker can also add up to 25% complementary varietals which include; Rossignola, Negrara, Trentina, Barbera, Oseleta and Sangiovese.
As a general characteristic - these red wines tend to have lively expressive bouquet, full on the palate with good fruit, and a velvety smooth finish. They also tend to be less tannic than red wines from Tuscany or Piedmont.
The traditional style of Valpolicella uses the name 'Valpolicella Classico' - about half of all Valpolicella falls into this category. Valpolicella should be enjoyed relatively cool about 13-15ºC. It is normally enjoyed quite young, within 3 years. It goes well with light dishes - pasta, pizza, pork, lamb and earthy vegetables in a red-wine sauce.
Valpolicella 'Superiore' is created with at least one year of aging in oak barrel, and must be at least 12% alcohol (or higher).
Recioto - straw wine, or raisin wine - is a wine made from grapes that have been partially dried to concentrate their juice. The classic method dries bunches of grapes on straw-mats in the sun, or under cover, some hang the grapes. The technique dates back to pre-Roman times. Straw wines are typically sweet to very sweet white wines, similar to Sauternes and capable of long ageing. The low yields and labour-intensive production means that they are quite expensive. Around Verona red grapes are dried, and are fermented in two different ways to make a sweet red wine (Recioto della Valpolicella) and a dry, rich, full-flavoured and full-bodied red wine called 'Amarone' - enjoy.