Looking to try something new...
The following are a dynamic range of Port wines - crafted to complement olives, varied tapas', plus a celebration for the senses when paired with an array of rich, aged cheeses, berry ice-cream & chocolate desserts. Here are a few brief words to describe my first impressions and the essence of each Port. A versatile range you can share at anytime.
Remember - 'when & where possible, all wine tastes better when served from the appropriate glass and at the ideal temperature'.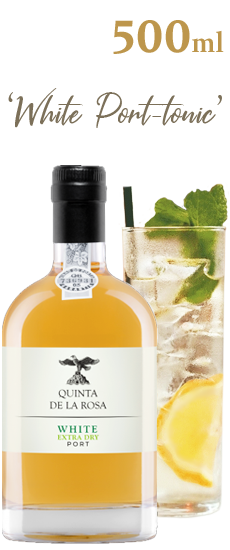 Quinta de La Rosa


White Port
Cellars: Pinhão, Douro Valley - Portugal
Head Winemaker: Jorge Moreira
Made in a drier style with an average age of 2-3 years. This is an elegant white Port. A first class aperitif wine, a pale honey colour, showcasing elevated pip & citrus fruits on the palate, with a characteristic off-dry finish. (19.5% Alc. - residual sugar 25g/L).
• White Grapes: Viosinho, Gouveia, Rabigato & Malvasia Fina.
Enjoy with: varied seafood tapas' & green olives.
• Serve chilled with tonic & slice of orange.
*Retail - NZ$29.99 : 500ml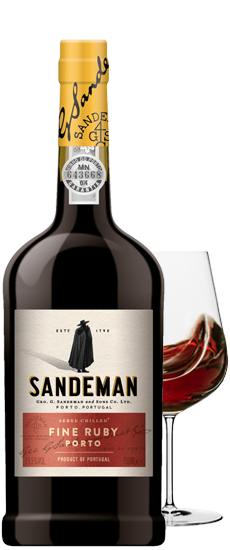 Sandeman


Fine Ruby Port
Cellars: Vila Nova de Gaia - Portugal
Head Winemaker: Luís Sottomayor
Brilliant ruby colour, with aromas of vibrant red fruits. This Fine Ruby has full rich flavours and well balanced, with generous characters that fill the mouth, with lifted ripe plums & red fruits - an average age of 3 years. (19.5% Alc. - residual sugar 95g/L).
• Grapes: Tinta Amarela, Tinta Barroca, Tinta Roriz, Tinto Cão, Touriga Franca
Enjoy with: berry cheesecakes & over ice-cream.
• Serve chilled between 8°- 11°C
*Retail - NZ$34.99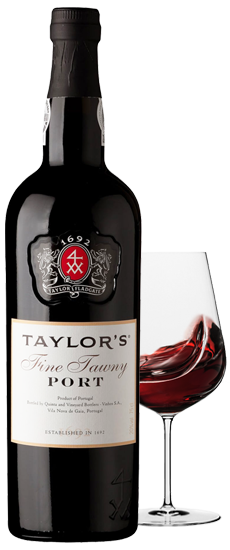 Taylor's


Fine Tawny Port
Cellars: Vila Nova de Gaia - Portugal
Head Winemaker: David Guimaraens
A brick tawny red colour with an amber rim. Aromas and bright flavours of plum, prunes, butterscotch, figs and all interwoven with attractive nutty, chocolate and spice notes. Smooth and round on the palate, full of flavours. (20% Alc. - residual sugar 95g/L).
• Grapes: Touriga Nacional, Tinta Roriz & Touriga Franca.
Enjoy with: fruit cake, coffee desserts & blue cheeses.
• Serve lightly chilled between 9°- 12°C
*Retail - NZ$34.99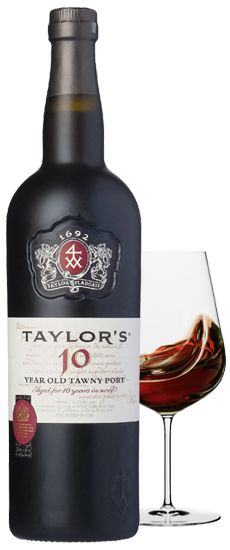 Taylor's


10 Year Old Tawny Port
Cellars: Vila Nova de Gaia - Portugal
Head Winemaker: David Guimaraens
A tawny colour with an amber rim. Rich and elegant aromas of ripe berry fruits with a delicate nuttiness and subtle mellow notes of chocolate, butterscotch and fine oak wood. Smooth and silky on the palate and a long finish. (20% Alc. - residual sugar 105g/L).
• Grapes: Touriga Nacional, Touriga Franca, Tinta Cão, Tinta Roriz, Tinta Barroca
Enjoy with: tiramisu, coffee desserts & blue cheeses.
• No Decanting & Serve lightly chilled 12°- 14°C
*Retail - NZ$64.99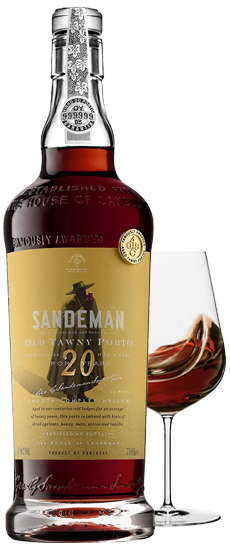 Sandeman


20 Year Old Tawny Port
Cellars: Vila Nova de Gaia - Portugal
Head Winemaker: Luís Sottomayor
An elegant combination of dried apricots, honey, nuts, dried spices & vanilla. All carry through onto the elegant palate - where the time in oak & sweetness combine to create a complex wine which unfolds to a silky smooth finish. (20% Alc. - residual sugar 115g/L).
• Grapes: Touriga Franca, Tinta Roriz, Tinta Amarela, Tinta Barroca & Tinto Cão
Enjoy with: tiramisu, coffee desserts & blue cheeses.
• No Decanting & Serve between 12°- 16°C.
*Retail - NZ$74.99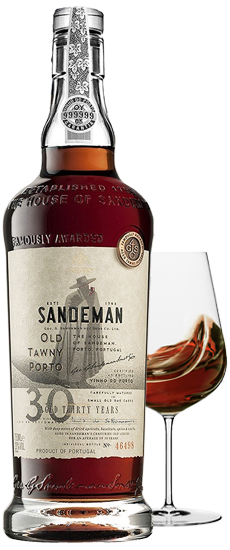 Sandeman


30 Year Old Tawny Port
Cellars: Vila Nova de Gaia - Portugal
Head Winemaker: Luís Sottomayor
Engaging aromas of honey & spices, underscored with flavours of dried apricots, hazelnuts and vanilla, creating an elegant combination. The ageing process intensifies the fruit creating complex flavours & characteristics. (20% Alc. - residual sugar 120g/L).
• Grapes: Touriga Franca, Tinta Roriz, Tinta Amarela, Tinta Barroca & Tinto Cão
Enjoy with: tiramisu, nougat desserts & blue cheeses.
• No Decanting & Serve between 14°- 16°C.
*Retail - NZ$169.99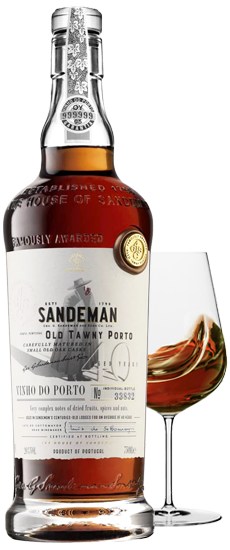 Sandeman


40 Year Old Tawny Port
Cellars: Vila Nova de Gaia - Portugal
Head Winemaker: Luís Sottomayor
A hypnotic bouquet of vanilla and honeycomb, lead to an engaging silky-smooth palate combining with complex flavours of dried fruits, spices and nuts. Superb balance and vibrancy, characteristic of Sandeman. (20% Alc. - residual sugar 125g/L).
• Grapes: Tinta Amarela; Tinta Barroca; Tinta Roriz; Tinto Cão; Touriga Franca
Enjoy with: tiramisu, grilled fruits & hard cheeses.
• No Decanting & Serve between 14°- 16°C.
*Retail - NZ$299.99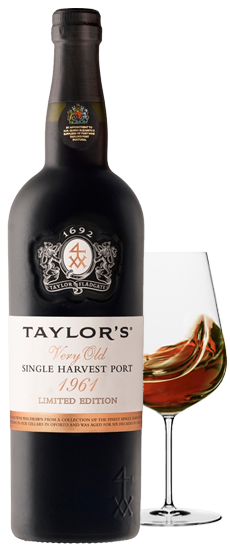 Taylor's


Single Harvest 1961 Port
Cellars: Vila Nova de Gaia - Portugal
Head Winemaker: David Guimaraens
Opulent aromas of molasses, dried fig and sultana, mingle with nutty marzipan. The velvet textured palate showcases intense flavours of butterscotch, almond, orange marmalade & dried fruits. A beautifully balanced wine. (20% Alc. - residual sugar 175g/L).
• Grapes: Touriga Franca, Tinta Roriz, Tinta Amarela, Tinta Barroca & Tinto Cão
Enjoy with: roulade, walnut cheesecakes & cheeses.
• No Decanting & Serve between 12°- 16°C.
*Retail - NZ$599.99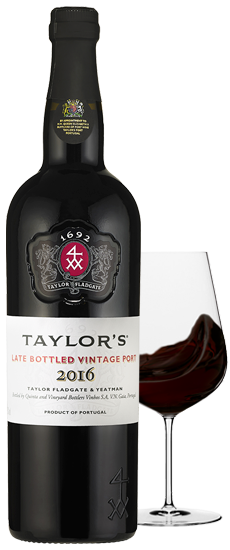 Taylor's


Late Bottled Vintage 2016 Port
Cellars: Vila Nova de Gaia - Portugal
Head Winemaker: David Guimaraens
Deep purple black core with a ruby rim. Elevated aromas of blackcurrant, dark cherries with cacao & spice. On the palate rich dark fruits supported by confident tannins. Taylor's style, showcasing balance & finesse. (20% Alc. - residual sugar 102g/L).
• Grapes: Touriga Franca, Touriga Nacional, Tinta Roriz, Tinta Cão & Tinta Barroca
Enjoy with: dark chocolate desserts & blue cheeses.
• No Decanting* & Serve between 15°- 17°C.
*Retail - NZ$54.99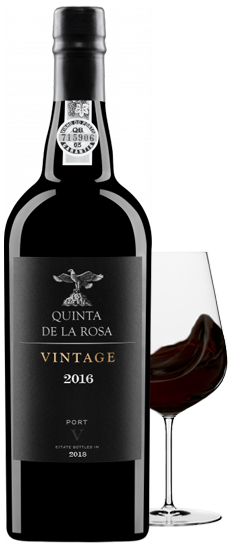 Quinta de La Rosa


'Vintage' 2016 Port
Cellars: Pinhão, Douro Valley - Portugal
Head Winemaker: Jorge Moreira
Concentrated aromas and flavours of dark cherries, ripe black plums, wild berries, bitter chocolate & spice notes. The palate is exuberant and seductive, with enormous intensity and complexity but without any extremes resulting in a very balanced, memorable wine. (19.5% Alc. - residual sugar 103g/L).
• Grapes: Touriga Nacional, Touriga Franca & Sousão
Enjoy with: coffee/ chocolate desserts & blue cheese.
• Decant & Serve between 15°- 17°C.
*Retail - NZ$119.99
VIDEO - The History of Port Wine:
Featured Winery: Taylor's Port
Founded in: 1692
Region: Vila Nova de Gaia - Portugal
Technical Director & Head Winemaker: David Guimaraens
Taylor's is one of the oldest of the founding Port houses. Their story in many ways, is the history of the Port trade itself. Founded in 1692, the company has remained independent & family owned. Establishing itself as one of the world's most respected Port Houses - achieved through the perseverance, pioneering spirit & continuity of purpose of successive generations of family involvement - please enjoy the short Taylor's Port Wine video... - *(published Oct. 2016)