Champagne Barons de Rothschild Brut NV
Grape Varietals: 60% Chardonnay & 40% Pinot Noir
Winery / Cellars: Reims - France
Chef de Cave: Guillaume Lete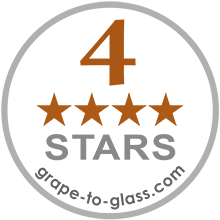 In 2005 Champagne Barons de Rothschild was established, with three branches of the Rothschild Family united around a singular ambition to craft an exceptional Champagne. Represented by Baron Philippe Sereys de Rothschild (Château Mouton Rothschild), Ariane de Rothschild (Château Clarke - and the Edmond de Rothschild Group), Baron Eric and his daughter Saskia (Château Lafite Rothschild) - joining forces, for the first time in their history, in the creation of a common estate.
Asked, why and how this eventuated and they have said, that they always wanted to do something together, and Champagne seemed a natural celebration. So rather than buying a Champagne House, they agreed to create their own, with their cellars in Reims. Since its creation, Champagne Barons de Rothschild has been based on the Rothschilds family historical values, which can be found within the logo: CONCORDIA - (Harmony, agreement, literally 'all hearts together'). INTEGRITAS - (State of being intact, without alteration). INDUSTRIA - (Savoir-faire, methodical work).
Chardonnay is the pillar of their expressions, representing more than 70% across all wines, with no less than 50-60% and up to 100% in their special cuvées. Talking with Guillaume, you will hear him describe how everything; starting in the vineyards all leads to achieving the ultimate in elegance, the primary objective with each wine.
This Barons de Rothschild Brut NV has a commanding presence across the palate. The cuvée uses 3-4 year old Chardonnay and Pinot Noir for the reserve wine component, which makes up around 40% of the final blend. This cuvée is a complex blend of 60% Chardonnay primarily from the Côte des Blancs Grands crus and Premiers crus; and 40% Pinot Noir primarily from Verzenay, Ay, Mareuil-sur-Ay, and Ambonnay. This cuvée was aged on lees for 4 years before disgorgement.
★ In your glass you are greeted by a mild yellow, with gold glints dancing on an elegant medium sized mouse. A charming aroma of mixed apples, nashi pear, almonds, jasmin and light accent of biscotti. A focused palate displaying that energy riding along a stream of fine beading, lifting to your taste-buds a citrus lined mineral seam, with outbursts of crisp apple, pear, quince, white peach and a deft note of lightly toasted biscotti. The palate has an engaging charm with the dominance of the Chardonnay giving definition and the Pinot Noir offering added structure and breath to the flavour profile. Even with 4 years on lees, it has an upbeat nature and an astute focus on its well-defined layers, persistent mousse and low dosage signing off with a clean dry finish.
This Barons de Rothschild Brut NV has 12% Alc./vol. - with a dosage of 6g/L of sugar. Chill gently and serve in a generous flute or aromatic wine glass at 8°- 10°C. *NZ$124.99
A commanding Brut NV Champagne - with an engaging elegance.
CELLARING POTENTIAL: *(Article Posted 29/10/23)
Drinking perfectly well this season; and will hold well for another 4 - 5 years.
FOOD PAIRING SUGGESTIONS:
Perfect wine as an aperitif, plus as a complement to a fresh shellfish like oysters, crayfish & lobster, grilled fish, stuffed crab, lemon chicken risotto, mixed vegetarian cuisine or simply at any time shared with good friends & family - enjoy.
Always drink responsibly.