Stonyridge Vineyards - 'The Art of the Bordeaux Blend': 
On Friday the 14th May 2021 - with the same excitement as a young child on Christmas Eve waiting to open their presents. I took a short 35 minute ferry journey from downtown Auckland across the Hauraki Gulf to Waiheke Island. I was kindly invited to attend the Stonyridge Winery - 'The Art of the Bordeaux Blend' - Winemakers Dinner.
You think the title is a lavish mouthful - wait until you read what we got to sip, savour & share with 30 other guests who purchased tickets for the occasion. I was contacted by Martin Pickering - Head Winemaker and Steve White - Owner of Stonyridge Wines - (whom I have known both well since the 1990's). And asked if I would join them at the head table and be part of the 'Larose' Bordeaux blending session. Along with sharing a sumptuous 4 course degustation dinner created by iconic guest chef Varick Neilson.
Joining us at the head table was one of my closest friends for nearly 30 years - Grahame Haggart (aka Haggie), plus Cameron Douglas MS (Master Sommelier) and his wife Janet. This was not as they say a tough assignment. I found the words to describe the nuances and character in each of the wine components that were used to make the 2019 Stonyridge 'Larose' - flowed as liberally as the wines paired with each course.
The whole evening was a genuine pleasure to join some colourful characters and be part of another captivating episode in the chronicles of Stonyridge Vineyards on Waiheke Island - NZ.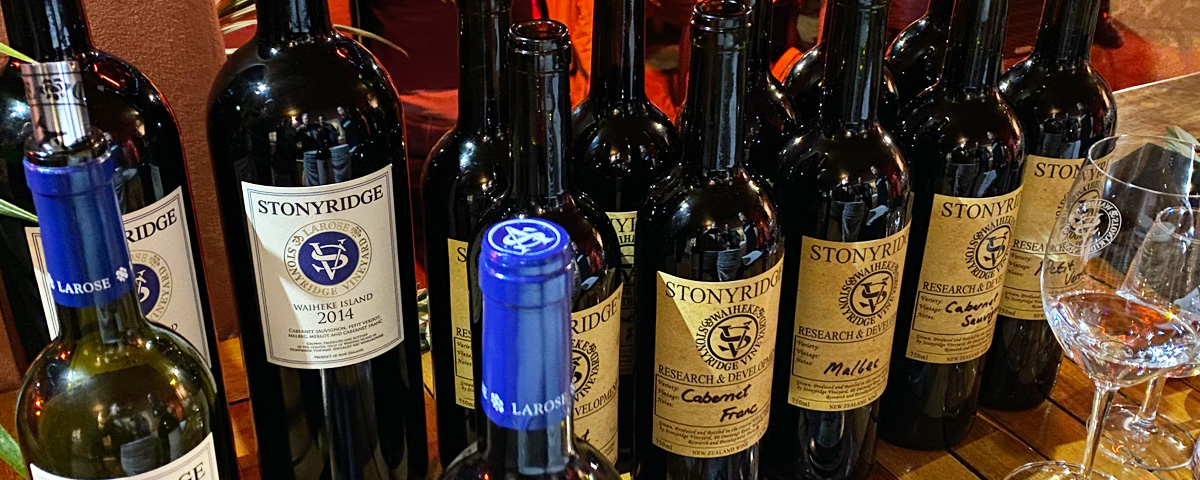 The whole evening was a genuine pleasure to join some colourful characters and be part of another captivating episode in the chronicles of Stonyridge Vineyards on Waiheke Island - NZ.
I won't' describe the Degustation Menu - as you can see the dishes in the bottom photo, but here are some brief notes on the wines served.
Stonyridge 'Luna Dorada' Chardonnay 2019
This Chardonnay a dovetail joining of 2 clones, with one being the same clone used to craft the famed wines of Corton-Charlemagne in Burgundy. This 2019 'Luna Dorada' has a lush-generosity across the palate elegantly constructed with multiple thin layers of complexity. The wine also had 80% new French oak ageing and only the best bedtime stories while resting in the cellar. Drinking well now, but if you could cellar a few bottles and unwrap in say another 6 months - you will have very happy taste buds for the next 3 - 5 years.
Stonyridge 'Larose' 2018
A last minute change on the night. This Stonyridge 'Larose' is no less rewarding to the senses - and another seamless complex jigsaw of grape varietals and vineyard sites. But the 2018 is an earlier drinking expression of Larose. Though with that said - this wine can easily age gracefully for another 8 - 10 years. On the nose and plate your senses are saturated with ripe plums, wild fruits and vanilla with layers of softly textured tannins and wrapped in supportive oak. This 2018 in a blind tasting would bring a smile to a passionate Bordeaux aficionado.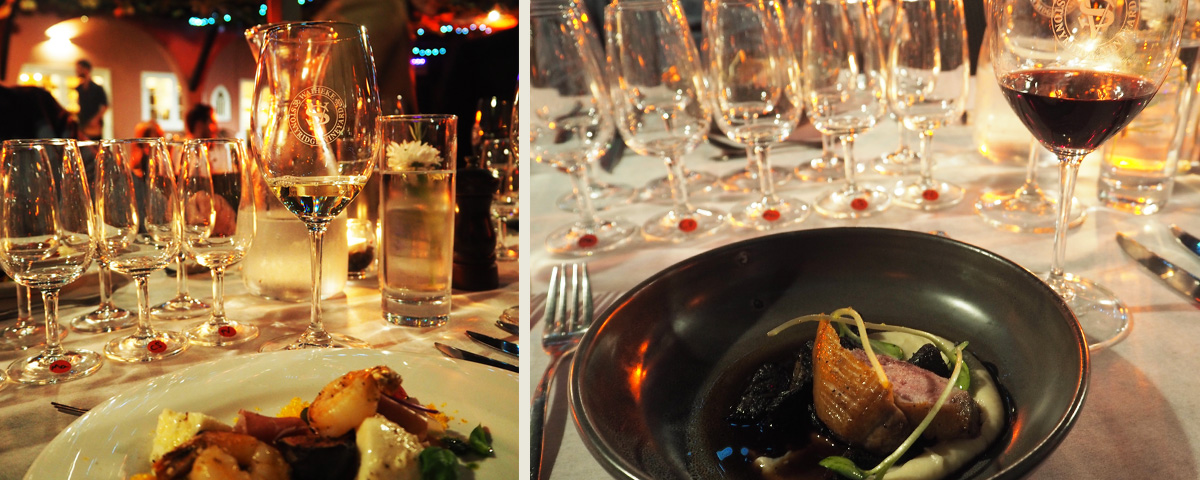 Stonyridge 'Larose' 2014
If you genuinely love authentic expressions of Bordeaux varietal typicity and you don't have any of this vintage in your cellar - I would rectify this immediately. For a quality Larose - this 2014 is still working its way through its apprenticeship in the bottle - but this wine has the potential to be one of the greats. Not sure how they got all those flavours they have squeezed inside this bottle - they must have got the plans from Doctor WHO and made a modern TARDIS wine bottle. As the wine on the inside seemed to go on and on and engaging parts of your taste buds not excited since your first French kiss in the back row of a dark movie theatre. I suggest you do some exercise or have a richly flavoured meal to match the texture, character and complexity in this wine. Drinking now with mild decanting - plus will age gracefully for another 6 - 8 years.

Then came the audience participation part of the evening - when the Stonyridge team poured the 5 grape components, and everyone had the opportunity to be a winemaker for the night with - 'The Art of the Bordeaux Blend Session'
We had the following 2019 'Larose' components:

• Merlot - where on the nose you had a bouquet of freshly cut wildflowers and lush ripe berry fruits…
• Cabernet Franc - which was perfumed with wildflowers & herbs, along with black fruits and cacao…
• Malbec - generous dark plums and a dark chocolate background note…
• Cabernet Sauvignon - classic mint chocolate on the nose, then ripe red fruits and excellent tannins…
• Petit Verdot - lashings of fresh along with dried herbs and exotic spices…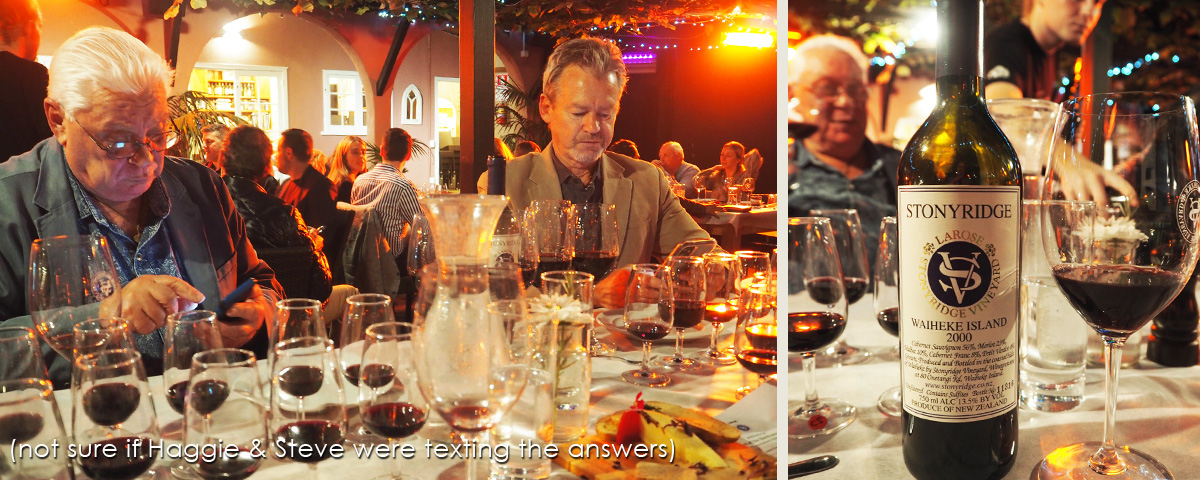 It was so interesting to see, hear and taste the different combinations people blended together. Most were blending the components to make something ready to be enjoyed on the night. So they went for more generous ripe flavours, and looked to smooth out any firm tannins and oak characters.
I couldn't help myself - my winemaker head just took over - so my blend had a little more structure. As I was looking into the future - as a stew simmering on the stove is always better in my opinion in a few days. But you need patience to wait and the confidence plus experience to know what can happen. But like a good stew - it makes a huge difference when working with quality ingredients and with Stonyridge 'Larose' and all of their wines - they are working with and crafting genuine international recognised Michelin Star quality flavour combinations.
As I say when talking about wine - a lot of detail can sometimes help you to understand a wine at that moment - but a relevant shared human story can give you a memory that can last a lifetime. During the evening there were a multitude of insightful, heartfelt stories shared by both Martin & Steve, plus many others around all the tables that will last with everyone - an extremely special and enjoyable memory.
• Shown in the photo below (left-right): Haggie, Cameron Douglas MS, and owner Steve White *(plus between & behind both myself & Steve) is the talented Martin Pickering *(winemaker - he was busy working the room).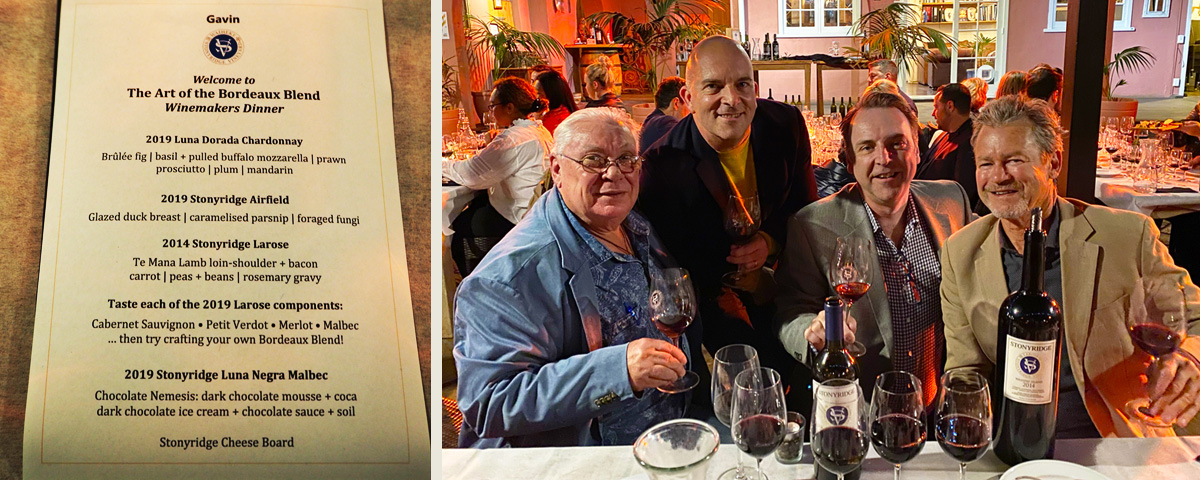 Where can you find Stonyridge Wines: 
Stonyridge Wines 'world renowned character wines' are available in New Zealand and around the world from quality wine retailers, restaurants and wine bars. Or visit the Stonyridge website - CLICK HERE.